BOTANICAL NAME: Zingiber officinale
FAMILY: Zingiberaceae
CLASSICAL CLASSIFICATION
Charak- Truptighana, Arshoghana, Deepaneeya, Trishnanigrahna
Sushrut- Pippalyadigana
Bhavprakash– Shadushana, panchkola
ENGLISH NAME: Dry ginger
COMMON NAME:
Hindi: Adarak
Kannada: Alla
Bengali: Soonth
Punjabi: Sund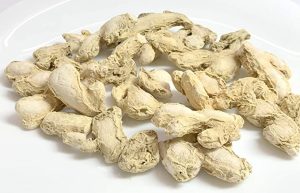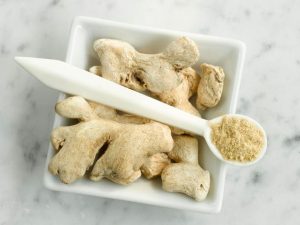 REFERENCE: BHAVAPRAKASH SAMHITA with link e Nighantu:
https://niimh.nic.in/ebooks/e-Nighantu/bhavaprakashanighantu/?mod=read
शुण्ठी विश्वा च विश्वञ्च नागरं विश्वभेषजम् |

ऊषणं कटुभद्रञ्च शृङ्गवेरं महौषधम् ||४१||

शुण्ठी रुच्यामवातघ्नी पाचनी कटुका लघुः |

स्निग्धोष्णा मधुरा पाके कफवातविबन्धनुत् ||४२||

वृष्या स्वर्या वमिश्वासशूलकासहृदामयान् |

हन्ति श्लीपदशोथार्श आनाहोदरमारुतान् ||४३||

आग्नेयगुणभूयिष्ठं तोयांशपरिशोषि यत् |

संगृह्णाति मलं तत्तु ग्राहि शुण्ठ्यादयो यथा ||४४||

विबन्धभेदिनी या तु सा कथं ग्राहिणी भवेत् |

शक्तिर्विबन्धभेदे स्याद्यतो न मलपातनो ||४५|

आर्द्रक

आर्द्रकं शृङ्गवेरं स्यात्कटुभद्रं तथार्द्रिका |

आर्द्रिका भेदिनी गुर्वी तीक्ष्णोष्णा दीपनी मता |

कटुका मधुरा पाके रूक्षा वातकफापहा |

ये गुणाः कथिताः शुण्ठ्यास्तेऽपि सन्त्यार्द्रकेऽखिलाः ||४६||

भोजनाग्रे सदा पथ्यं लवणार्द्रकभक्षणम् |

अग्निसन्दीपनं रुच्यं जिह्वाकण्ठविशोधनम् ||४७||

कुष्ठपाण्ड्वामये कृच्छ्रे रक्तपित्ते व्रणे ज्वरे |

दाहे निदाघशरदोर्नैव पूजितमार्द्रकम् ||४८|
HABITAT: Throughout India
BOTANICAL DESCRIPTION:
It is an extensively cultivated all over India and in the Deccan and Gujarat.
It is an erect, perennial, aromatic herb with horizontal tuberous branches root stock leaves are Linear lanceolate flowers are Peducles long, spikes ablong.
AYURVEDIC CHARACTERISTICS
RASA

GUNA

VEERYA

VIPAKA

PRABHAVA

DOSHGHNTA

Katu
Laghu, Snigdha(Sunthi)

Ruksa, tiksna(Adark)

Usna
Madhura (sunthi)

Katu

(Adark)

Kaphavatasamaka
AYURVEDIC ENERGETICS
TASTE
PROPERTY
POTENCY
POST DIGESTIVE

EFFECT

EFFECT ACTION
DOSHA ACTION

Pungent

Light, dryness

Hot

sweet

Pacifying kaph vata
MAJOR CHEMICAL CONSTITUENTS: volatile oil, gingerol, gingerin
THERAPEUTIC USES
Headache– Dry ginger is rubbed over a hard surface by adding a little water, thin paste applied over the forehead.
Jaundice- Take a teaspoon of power of dry ginger with some jaggary twice a day.
Diarrhea– Boil dry ginger and khuskhus roots in a glass of water and take thrice a day.
Asthma- A few garlic cloves may be added to tea.
INDICATIONS:
Vatavyadhi Neurological disorder, Aruchi Anorexia, Amavata Rheumatoid arthritis Kasa Cough, Shwas Asthma, Hikka Hiccup.
USEFUL PART: Rhizome
DOSAGE: Powder: 1-2gm, Juice: 2-5 ml
AYURVEDIC FORMULATION:
1. Ardrakakhanda
2. Samasarkaracurna
3. Sunthi ghrtam
4. Rasnadikvatha
5. Nagara curna