BOTANICAL NAME: Clerodendrum phlomidis
FAMILY: Verbenaceae
CLASSICAL CLASSIFICATION:
Charaka: Shothahara, Sheetaprashamana, Anuvasanopaya
Sushruta: Viratavadi, Varunadi, Vatasanshamana
Bhavaprakasha: Guduchyadi varga
ENGLISH NAME: Wind killer
COMMON NAME:
Sanskrit: Ganikarika, Jaya, Jayanti.
Hindi: Urni
Kannada: Taggi, Arani, Taggiberu
Bengali: Ganibhari, Ganira, Ganiyari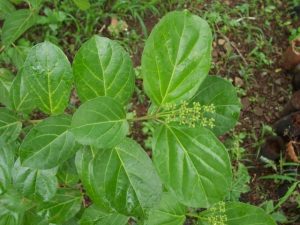 REFERENCE: BHAVAPRAKASH SAMHITA with link e Nighantu:
https://niimh.nic.in/ebooks/e-Nighantu/bhavaprakashanighantu/?mod=read
अग्निमन्थो जयः स स्याच्छ्रीपर्णी गणिकारिका |

जया जयन्ती तर्कारी नादेयी वैजयन्तिका ||२०||

अग्निमन्थः श्वयथुनुद्वीर्योष्णः कफवातहृत् |

पाण्डुनुत्कटुकस्तिक्तस्तुवरो मधुरोऽग्निदः ||२१||
HABITAT: It is found mostly in dried parts. It is easily available in upper Gangetic plains, Uttar Pradesh, Bihar and Orissa etc and also cultivated in coastal areas of southern India and dry regions of western coast. It is also found in banks of Ganga and Bengal.
BOTANICAL DESCRIPTION: A large shrub or small tree reaching up to 9 m in height, with more or less pubescent branches. Occasionally branched, cylindrical, tough, yellowish-brown externally, bark thin, occasionally easily peeled, outer surface rough due to exfoliation, wood light yellow, fracture hard; taste, slightly astringent. Fruiting and flowering time is April to June.
AYURVEDIC CHARACTERISTICS:
| | | | | | |
| --- | --- | --- | --- | --- | --- |
| RASA | GUNA | VEERYA | VIPAKA | PRABHAVA | DOSHGHNTA |
| Katu, Tikta, Kasaya | Laghu, Ruksha | Ushna | Katu | – | Vatahara, kaphahara |
AYURVEDIC ENERGETICS:
| | | | | | |
| --- | --- | --- | --- | --- | --- |
| TASTE | PROPERTY | POTENCY | POST DIGESTION EFFECT | ACTION | DOSHA ACTION |
| Pungent, Bitter, Astringent | Light, Dry | Hot | Pungent | – | Vatakapha pacifying |
MAJOR CHEMICAL CONSTITUENTS: Sterols
THERAPEUTIC USES:
Low micturition- Decoction of root is used
Urticaria– Root pulp is given orally to treat urticaria and other skin disorders
Vata disorders- Roots and bark decoction is preferred
Fever- Decoction of leaves is used in treating fever
INDICATIONS:
Shotha Swelling, Pandu Anemia, Arsa Piles, Vibandha Constipation, Mutrakrishya Low micturition, Mutraghata Urine disorders
USEFUL PART: Flower and Root
DOSAGE: 12-24 g of the drug in powder form for decoction
AYURVEDIC FORMULATIONS:
1. Dasamularishta
2. Dashamulakvatha churan
3. Indukanta Ghrt
4. Narayana taila