BOTANICAL NAME: Emblica officinalis
FAMILY: Euphorbiaceae
CLASSICAL CLASSIFICATION
Charak- Jvaraghana, kasaghana,Virechanopaga, Kushtaghana, Vayasthapana
Bhavprakash– Haritakyaadi
ENGLISH NAME: Emblic Myrobalan
COMMON NAME:
Hindi: Amla, Aonla
Kannada: Nellikayi
Punjabi: Aula, Amla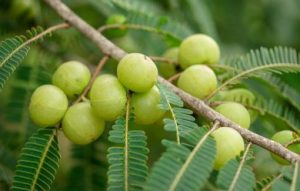 REFERENCE: BHAVAPRAKASH SAMHITA with link e Nighantu:
https://niimh.nic.in/ebooks/e-Nighantu/bhavaprakashanighantu/?mod=read
त्रिष्वामलकमाख्यातं धात्री तिष्यफलाऽमृता |

हरीतकीसमं धात्रीफलं किन्तु विशेषतः |

रक्तपित्तप्रमेहघ्नं परं वृष्यं रसायनम् ||३६||

हन्ति वातं तदम्लत्वात्पित्तं माधुर्यशैत्यतः |

कफं रूक्षकषायत्वात्फलं धात्र्यास्त्रिदोषजित् ||३७||

यस्य यस्य फलस्येह वीर्यं भवति यादृशम् |

तस्य तस्यैव वीर्येण मज्जानमपि निर्दिशेत् ||३८||
HABITAT: It can be easily found growing in semi – arid regions and plains of northern India. Uttar Pradesh, Tamil Nadu, Rajasthan and Madhya Pradesh are preferable subtropical area for cultivation of amla.
BOTANICAL DESCRIPTION:
A small or medium sized tree, found in mixed deciduous forests, ascending to 1300 m on hills and cultivated in gardens and home yards .Fruits globose, 2.5-3.5 cm in diameter, fleshy, smooth with six prominent lines greenish when tender, changing to light yellowish or pinkish color when mature, with few dark specks: taste, sour and astringent followed by delicately sweet taste. Flowering and fruiting time Monsoon, October–December.
AYURVEDIC CHARACTERISTICS
| | | | | | |
| --- | --- | --- | --- | --- | --- |
| RASA | GUNA | VEERYA | VIPAKA | PRABHAVA | DOSHAGHNTA |
| Amla, Kashaya, Madhura, Tikta, Katu | Ruksha, Laghu | Sheet | Madhura | | Tridoshnashak |
AYURVEDIC ENERGETICS
TASTE
PROPERTY
POTENCY
POST

DIGESTIVE

EFFECT

EFFECT

ACTION

DOSHA

ACTION

Sweet, pungent

Antringent, bitter

Dry, light

cold

sweet

Tridosha pacifying
MAJOR CHEMICAL CONSTITUENTS: Ascorbic acid and tannin.
THERAPEUTIC USES
Skin disorder- Administration of amla juice along with honey.
Diabetes– Amla powder is mixed with ghee and little honey shall be used.
INDICATION:
Raktapitta Epistaxis, Amlapitta Acidity, Prameha Diabetes, Daha burning sensation.
USEFUL PART: Phal and Patra.
DOSAGE:10-20 g of the drug, fresh juice 50- 60 ml
AYURVEDIC FORMULATION
1. Chyawanprash
2. Amla churna
3. Amalak avleha