BOTANICAL NAME: Garcinia pedunculata
FAMILY: Guttiferae
CLASSICAL CLASSIFICATION:
Charaka: Hridya, Amla skanda, Deepaniya, Shvasahara
Bhavarakasha nighantu: Amradi phalavarga, Chaturamla, Panchamoola
COMMON NAME:
Hindi: Amalvet
Bengali: Thaikal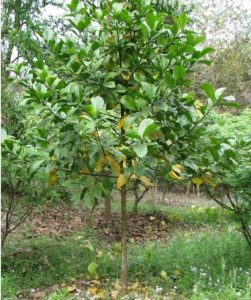 REFERENCE: BHAVAPRAKASH SAMHITA with link e Nighantu:
https://niimh.nic.in/ebooks/e-Nighantu/bhavaprakashanighantu/?mod=read
अम्लवेतस स्यादम्लवेतसश्चुक्रं शतवेधि सहस्रनुत् |

अम्लवेतसमत्यम्लं भेदनं लघु दीपनम् |

हृद्रोगशूलगुल्मघ्नं पित्तलं लोमहर्षणम् ||११८||

रूक्षं विण्मूत्रदोषघ्नं प्लीहोदावर्तनाशनम् |

हिक्कानाहारुचिश्वासकासाजीर्णवमिप्रणुत् ||११९||

कफवातामयध्वंसि च्छागमांसद्रवत्वकृत् |

चणकाम्लगुणं ज्ञेयं लोहसूचीद्रवत्वकृत् ||१२०||
HABITAT: It is found in Assam and in Manipur
BOTANICAL DESCRIPTION: It is tall tree up to 50-60 feet high, with fluted trunk. Leaves are obovate or oblanceolate. Fruits are sub-globose, yellow with fleshy pericarp. Seeds are enclosed in a pulpy aril.
AYURVEDIC PROPERTIES:
| | | | | | |
| --- | --- | --- | --- | --- | --- |
| RASA | GUNA | VEERYA | VIPAKA | PRABHAVA | DOSHGHNTA |
| Amla | Laghu, ruksha, teekshna | Ushna | Amla | – | Kaphavatasamaka, pittavardhaka. |
AYURVEDIC ENERGETICS:
| | | | | | |
| --- | --- | --- | --- | --- | --- |
| TASTE | PROPERTY | POTENCY | POST DIGESTION EFEFCT | ACTION | DOSHA ACTION |
| Sour | Light, dry, piercing | Hot | Sour | – | Kaphavata pacifying, Increases pitta |
MAJOR CHEMICAL CONSTITUENTS: Malic acid (13-20%)
THERAPEUTIC USES:
Asthma: Its decoction is to be administered.
Constipation: Powder is to be taken with warm water
Piles: Paste of powder is to be used externally
INDICATIONS:
Aruchi Indigestion, Agnimandhya Low digestive fire, Ykritavriddhi Hepatomegaly, Plihavriddhi Splenomegaly, Shwasa Asthma, Arsha Piles
USEFUL PART: Fruits and leaves
DOSAGE: Juice 5-10 ml
AYURVEDIC FORMULATION:
1. Astanga lavana
2. Shwasahara Kashaya
3. Hingvadi vati