BOTANICAL NAME: Achyranthus aspera
FAMILY: Amaranthaceae
CLASSICAL CLASSIFICATION
Charak- Shirovirechanopaga, krimighna, Vamanspaga
Sushrut- Arkadi
ENGLISH NAME: Prickly Chaff Flower
COMMON NAME:
Hindi: Chirchira, Latjira
Kannada: Uttarane, Uttaren
Punjabi: Puthakanda, Lattajeera.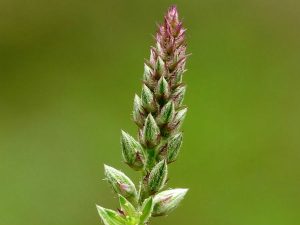 REFERENCE: BHAVAPRAKASH SAMHITA with link e Nighantu:
https://niimh.nic.in/ebooks/e-Nighantu/bhavaprakashanighantu/?mod=read
अपामार्गस्तु शिखरी ह्यधःशल्यो मयूरकः |

मर्कटी दुर्ग्रहा चापि किणिही खरमञ्जरी ||१८७||

अपामार्गः सरस्तीक्ष्णो दीपनः तिक्तकः कटुः |

पाचनो रोचनश्छर्दिकफमेदोऽनिलापहः |

निहन्ति हृद्रुजाध्मानकण्डूशूलोदरापचीः ||१८८||

रक्तापामार्ग-

रक्तोऽन्यो वसिरो वृत्तफलो धामार्गवोऽपि च |

प्रत्यक्पर्णी केशपर्णी कथिता कपिपिप्पली ||१८९||

अपामार्गोऽरुणो वातविष्टम्भी कफकृद्धिमः |

रूक्षः पूर्वगुणैर्न्यूनः कथितो गुणवेदिभिः ||१९०||

अपामार्गफलं स्वादु रसे पाके च दुर्जरम् |

विष्टम्भि वातलं रूक्षं रक्तपित्तप्रसादनम् ||१९१||
HABITAT : It is a tropical weed distributed throughout tropical world. Apamarg grows in the tropical regions of America, Australia, Asia and Africa.
BOTANICAL DESCRIPTION:
A stiff erect, 0.1-0.9 m high, herb found commonly as a weed throughout the country up to 900m.Tap root cylindrical slightly ribbed, up to 1.0 cm in thickness, gradually tapering, rough due to presence of some root scars; secondary and tertiary roots present; yellowish-brow odour, not distinct; taste not characteristic.Fruiting and flowering time september to april.
AYURVEDIC CHARACTERISTICS
RASA

GUNA

VEERYA

VIPAKA

PRABHAVA

DOSHAGHNTA

Tikta, Katu
Laghu, Ruksha,Tiksna, Sara
Usna
Katu
Kaphnashak,

And vatadosha
AYURVEDIC ENERGETICS
| | | | | | |
| --- | --- | --- | --- | --- | --- |
| TASTE | PROPERTY | POTENCY | POST DIGESTIVE EFFECT | EFFECT ACTION | DOSHA ACTION |
| Bitter pungent | Lightness dryness,sharp | Hot | pungent | | Pacifying kaphvata |
MAJOR CHEMICAL CONSTITUENTS:
Urticaria– Apamarg root paste is applied externally to relieve pain.
INDICATIONS
Chardi Vomiting, Kandu Itching, Bhagandhar Fistula, JvarFever, Bhadirya deafness
USEFUL PART: panchag.
DOSAGE: 5-10g
AYURVEDIC FORMULATION
1. Agstyaharitikirasyana
2. Mahapanchgavya Ghrt
3. ApamargaksaraTaila