BOTANICAL NAME: Centratherum anthelminticum
FAMILY: Asteraceae
CLASSICAL CLASSIFICATION:
Raja Nighantu- Pippalyadi varga
ENGLISH NAME: Purple fleabane
COMMON NAME:
Hindi: Sohrai, Kalijiri
Bengali: somraj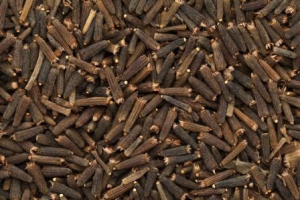 REFERENCE: (Rajnighantu)
बृहत्पाली क्षुद्रपत्रोऽरण्यजीरः कणा तथा |
वनजीरः कटुः शीतो व्रणहा पञ्चनामकः ||६५||
HABITAT: it is a small herb, 2-5 feet in height growing in the Himalayan range and plains of India.
BOTANICAL DESCRIPTION: The Flowers of the plant are purplish and fruits emit a strong odor. Leaves are simple, alternate, hairy, serrate, lanceolate.
AYURVEDIC CHARACTERISTICS:
| | | | | | |
| --- | --- | --- | --- | --- | --- |
| RASA | GUNA | VEERYA | VIPAKA | PRABHAVA | DOSHGHNTA |
| Katu, Tikta, | Laghu, Tikṣṇa | Usna | Katu | Dipana | Kaphavataśāmaka. |
AYURVEDIC ENERGETICS:
TASTE
PROPERTY
POTENCY
POST DIGESTIVE EFFECT
EFFECT ACTION
DOSHA ACTION
Pungent

Bitter

Light

Sharp

Hot
Pungent
Appetizer
Pacifying kapha and vata
MAJOR CHEMICAL CONSTITUENTS: Vernasterol, Abscisic acid and Demanolide
THERAPEUTIC USES:
Ringworm- The paste prepared from the seeds applied over the affected area.
Lice treatment- The paste prepared from the seeds is applied over the scalp
Burning micturition- The cold infusion of the seeds is consumed.
INDICATIONS
Jawara Fever, Vishnashak Anti poisonous, Stnayavardhaka Increases milk production.
USEFUL PART: Seeds and Fruit
DOSAGE: Powder : 1-3 gms
AYURVEDIC FORMULATION:
Prasootika Kashaya