BOTANICAL NAME: Terminalis arjunaa
FAMILY: Combretaceae
CLASSICAL CLASSIFICATION
Charak- Udardaprashmana
Susrut- Nyagrodhadi, Salasardi
Bhavprakash– Haritaki kula
ENGLISH NAME: Arjuna
COMMON NAME:
Hindi: Arjuna
Kannada: Aatumaruthu
Punjabi: Juran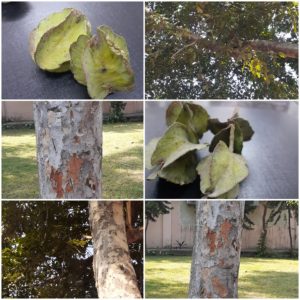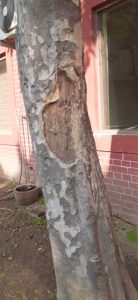 REFERENCE: BHAVAPRAKASH SAMHITA with link e Nighantu:
https://niimh.nic.in/ebooks/e-Nighantu/bhavaprakashanighantu/?mod=read
HABITAT:
BOTANICAL DESCRIPTION:
A large evergreen tree, with spreading crown and drooping branches, common in most parts of India. Bark very thick, grey or pinkish green, smooth, exfoliating in large, thin, irregular sheets leaves subopposite, ablong, or elliptic, coriaceous, usually 10-15 cm, long, cordate, acute or abtuse at the apex fruits: 2.5- 5 cm long, nearly glabrous, ovoid or ablong with 5-7 hard winged angles. Flowering and fruiting time Summer-Winter season.
AYURVEDIC CHARACTERISTICS
| | | | | | |
| --- | --- | --- | --- | --- | --- |
| RASA | GUNA | VEERYA | VIPAKA | PRABHAVA | DOSHAGHNTA |
| Kassaya | Laghu ,Ruksa | Sita | Katu | Hridya | Kaphapittasamaka |
AYURVEDIC ENERGETICS
TASTE
PROPERTY
POTANCY
POST DIGESTIVE EFFECT
EFFECT

ACTION

DOSHA ACTION

Astringent

Dryness,lightness

cold

pungent

cardiac

Kapha pitta pacifying
MAJOR CHEMICAL CONSTITUENTS: Arjunethin, essential oils, tannins.
THERAPEUTIC USE:
Osteoporisis– 10 gm of arjuna bark is taken, added to 2 cups of water, boiled and reduced to a half cup.
Diabetes– Arjun, asan and bilva powder is given in empty stomach along with water.
INDICATIONS:
Hrudroga Cardiac disorder, Asrajit bleeding disorder, bhagana Fracture.
USEFUL PART: Twaka
DOSAGE: Powder: 1-2 gm, Juice: 10-15 ml, Decoction: 60-120 ml
AYURVEDIC FORMULATION:
1. Kakubhadichurna
2. Arjunaghrita
3. Arjunarist
4. Arjunatwakchurna