BOTANICAL NAME: Withania somnifera
FAMILY: Solanaceae
CLASSICAL CLASSIFICATION
Charak- Balya, Brimhaneeya
ENGLISH NAME: Winter cherry
COMMON NAME:
Hindi: Asgandha
Kannada: Angara beru
Bengali: Ashwagandha
Punjabi: Asgandh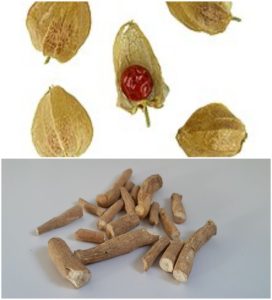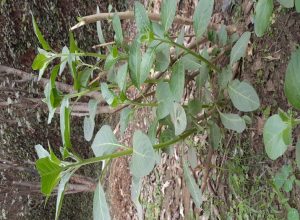 REFERENCE: BHAVAPRAKASH SAMHITA with link e Nighantu:
https://niimh.nic.in/ebooks/e-Nighantu/bhavaprakashanighantu/?mod=read
गन्धान्ता वाजिनामादिरश्वगन्धा हयाह्वया |

वराहकर्णी वरदा बलदा कुष्ठगन्धिनी ||१६१||

अश्वगन्धाऽनिलश्लेष्मश्वित्रशोथक्षयापहा |

बल्या रसायनी तिक्ता कषायोष्णाऽतिशुक्रला ||१६२|
HABITAT: All over India.
BOTANICAL DESCRIPTION:
It is found throughout the drier parts of India. It is an erect under shrub up to 1.5 high, Covered with stellate tomentum. Leaves are 5-10×2.5-5 cm, ovate with 6-13 mm, long petiole. Flowers are greenish yellow. Fruits 6mm in diameter, enclosed in much enlarged inflated calyx and red when ripe. Seeds are many and discoid Flowering and fruiting time rainy- autumn season and onwards.
AYURVEDIC CHARACTERISTICS:
RASA

GUNA

VEERYA

VIPAKA

PRABHAVA

DOSHGHNTA

Madhura

Kasaya

Tikta

Laghu

Snigdha

Usna
Madhura
Kaphavatasamaka
AYURVEDIC ENERGETICS:
TASTE
PROPERTY
POTENCY
POST

DIGESTIVE

EFFECT

EFFECT

ACTION

DOSHA ACTION

Bitter, sweet

astringent

Lightness, oiliness

Hot

Sweet

Balances tridosha
MAJOR CHEMICAL CONSTITUENTS: Volatile oil, Withaniol, Somniferin
THERAPEUTIC USES:
Rhinitis-equal amount of turmeric-ginger and aswagandha powder taken 3 gm with luke warm water
Leucorrhoea – 100gm of ashwagandha roots are selected and soaked in cow milk and dried under sunshine.
INDICATIONS:
Shoth Inflammation, Premeha Diabetes, Balya Improves strength, shvitra leukoderma, Shwashar Asthma.
USEFUL PART: Mool
DOSAGE: Powder: 3-6gms
Ksara: 1-3 gms
AYURVEDIC FORMULATION:
1. Asvagandha churna
2. Asvagandhaarista
3. Asvagandha rasayana
4. Asvagandha ghrta