BOTANICAL NAME: Linum usitatissimum
FAMILY: Linaceae
CLASSICAL CLASSIFICATION:
Bhavaprakasha nighantu– Dhanya varga
ENGLISH NAME: Flax
COMMON NAME:
Hindi: Alasi
Bengali: Masina
Kannad: gasebeeja, Semeagare, Agasi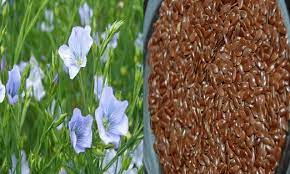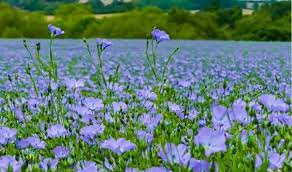 REFERENCE: BHAVAPRAKASH SAMHITA with link e Nighantu:
https://niimh.nic.in/ebooks/e-Nighantu/bhavaprakashanighantu/?mod=read
अतसी नीलपुष्पी च पार्वती स्यादुमा क्षुमा |

अतसी मधुरा तिक्ता स्निग्धा पाके कटुर्गुरुः |

उष्णा दृक्छुक्रवातघ्नी कफपित्तविनाशिनी ||५६||
HABITAT: plant generally found in Bengal, Bihar, Russia, Britain, UP.
BOTANICAL DESCRIPTION: It is an annual herb. Its stem is herbaceous and branched. Leaf is simple, alternate, entire, linear or linear lanceolate. Flower is bisexual, complete, blue or white. Fruit 5 celled capsule seeds are flat and shinning. Roots are tap root and branched.
AYURVEDIC CHARACTERISTICS:
| | | | | | |
| --- | --- | --- | --- | --- | --- |
| RASA | GUNA | VEERYA | VIPAKA | PRABHAVA | DOSHGHNTA |
| Madhura, Tikta | Guru, snigdha, picchila | Usna | Katu | – | Vataśāmaka |
AYURVEDIC ENERGETICS:
TASTE
PROPERTY
POTENCY
POST DIGESTIVE EFFECT
EFFECT ACTION
DOSHA ACTION
Sweet

Bitter

Heavy, uncoutous, sticky
Hot
Pungent
–
Pacifying vata
MAJOR CHEMICAL CONSTITUENTS: Plant contains omega 3 and omega 6 fatty acids, alpha-linolenic acid (ALA), campesterol, sitosterol.
THERAPEUTIC USES:
Burning urination: 1-2 teaspoons of Atasi seeds are soaked in a cup of water overnight. Next day it is consumed before food.
Cholesterol & obesity: Early in the morning 2-3 ml of linseed oil is added to a cup of warm water and taken in an empty stomach.
Lactation: Equal amounts of Linseed, cumin seeds and fenugreek seeds are taken and fine powder is made and taken twice a day in the dose of 5 grams along with milk.
Burning sensation and pain due to wasp sting: Fresh, mature flax leaves are crushed to obtain fresh juice and locally applied.
INDICATIONS:
Hridroga Cardiac disorder, Shotha Swelling, Arsas Piles, Kushtha Leprosy, Vrana Ulcers
USEFUL PART: Seed, oil, flower
DOSAGE: Powder- 3-6 gm, oil- 5-10ml
AYURVEDIC FORMULATION:
Atasyadi lepa
Atasi sneha