BOTANICAL NAME: Acacia arabica
FAMILY: Leguminoseae
CLASSICAL CLASSIFICATION:
Bhavaprakasha nighantu– Vatadi varga
ENGLISH NAME: Indian gum arabic tree
COMMON NAME:
Hindi: keekar
Bengali: baabla
Kannad: Jalli mara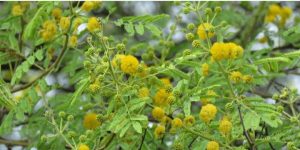 REFERENCE: BHAVAPRAKASH SAMHITA with link e Nighantu:
https://niimh.nic.in/ebooks/e-Nighantu/bhavaprakashanighantu/?mod=read
बब्बूलः किङ्किरातः स्यात्किङ्किराटः सपीतकः |
स एव कथितस्तज्ज्ञैराभाषट्प्रदमोदिनी |
बब्बूलः कफनुद् ग्राही कुष्ठक्रिमिविषापहः ||३१||
HABITAT: Babool is a small tree growing to a height of 8-10 m containing small spikes.
BOTANICAL DESCRIPTION: Stem woody, solid, branched, cylindrical leaf compound, bipinnate, stipulate, flowers yellow and fragrant.
AYURVEDIC CHARACTERISTICS:
| | | | | | |
| --- | --- | --- | --- | --- | --- |
| RASA | GUNA | VEERYA | VIPAKA | PRABHAVA | DOSHGHNTA |
| Kaşaya | Guru, Rūkşa | Sheeta | Katu | Grahi | Kaphahara. |
AYURVEDIC ENERGETICS:
TASTE
PROPERTY
POTENCY
POST DIGESTIVE EFFECT
EFFECT ACTION
DOSHA ACTION
Astringent
Heavy,

Dry

Cold
Pungent
Styptic
Pacifying kapha dosha
MAJOR CHEMICAL CONSTITUENTS: Plant contains iso quercetin arabinobioses, leucocyanidin, aldobio uronic acid.
THERAPEUTIC USES:
Bleeding gums and mouth ulcers – The decoction prepared from the bark of the plant of babool is given.
Diarrhoea and intestinal worms – The decoction 40 -50 ml is given to treat diarrhoea and intestinal worms.
Oozing eczemas– The paste prepared from the bark of the plant is applied over affected area.
Piles – The decoction of pods and bark are used to treat piles and haemorrhoids.
INDICATIONS:
Jawara Fever, kushtha skin diseases, kasa cough, pravahika Dysentery
USEFUL PART: stem bark , fruits, gum
DOSAGE: acacia gum 2-3gm
Seed decoction 3 -6 gm powder
AYURVEDIC FORMULATION:
Lavangadi vati
Babbularishta