BOTANICAL NAME: Ziziphus jujuba
FAMILY: Rhamnaceae
CLASSICAL CLASSIFICATION:
Bhavaprakasha nighantu– Amaradi varga
ENGLISH NAME: Indian jujube ber.
COMMON NAME:
Hindi: Ber
Kannad: Bore hannu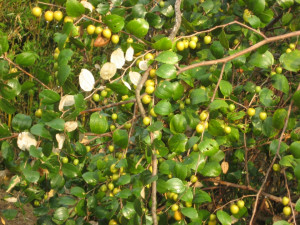 REFERENCE: BHAVAPRAKASH SAMHITA with link e Nighantu:
https://niimh.nic.in/ebooks/e-Nighantu/bhavaprakashanighantu/?mod=read
पुंसि स्त्रियाञ्च कर्कन्धूर्बदरी कोलमित्यपि |फेनिलं कुवलं घोण्टा सौवीरं बदरं महत् |अजप्रिया कुहा कोली विषमोभयकण्टका ||६०||
पच्यमानं सुमधुरं सौवीरं बदरं महत् |सौवीरं बदरं शीतं भेदनं गुरु शुक्रलम् ||६१||
बृंहणं पित्तदाहास्रक्षयतृष्णानिवारणम् |सौवीरं लघु सम्पक्वं मधुरं कोलमुच्यते ||६२||
कोलं तु बदरं ग्राहि रुच्यमुष्णञ्च वातलम् |कफपित्तकरं चापि गुरु सारकमीरितम् ||६३||
कर्कन्धूः क्षुद्रबदरं कथितं पूर्वसूरिभिः |अम्लं स्यात्क्षुद्रबदरं कषायं मधुरं मनाक् ||६४||
स्निग्धं गुरु च तिक्तञ्च वातपित्तापहं स्मृतम् |शुष्कं भेद्यग्निकृत्सर्वं लघुतृष्णाक्लमास्रजित् ||६५||
HABITAT: It is a medium-sized tree that grows vigorously and has a rapidly developing taproot, a necessary adaptation to drought conditions.
BOTANICAL DESCRIPTION: The leaves are alternate, ovate or oblong elliptic with rounded apex, with 3 depressed longitudinal veins at the base. The flowers are tiny, yellow, 5-petalled and are usually in twos and threes in the leaf axils.
AYURVEDIC CHARACTERISTICS:
RASA
GUNA
VEERYA
VIPAKA
PRABHAVA
DOSHGHNTA
Madhura

Amla

Guru

Snigdha

Sheeta
Madhura
–
Vatapittashamaka
AYURVEDIC ENERGETICS:
TASTE
PROPERTY
POTENCY
POST DIGESTIVE EFFECT
EFFECT ACTION
DOSHA ACTION
Sweet

Sour

Heaviness

Unctuous

Cool
Sweet
Pacifying pitta and vata
MAJOR CHEMICAL CONSTITUENTS: Vitamin C, Zizogenin, Zeatin, Saponin.
THERAPEUTIC USES:
Boils- Seed paste is applied over the affected area.
Abdominal distension- The decoction of bark with Narayan churana.
Fever- The leaf of badara when made into a paste it relives fever and burning sensation.
INDICATIONS:
Amaghana Altered metabolism, Deepana Improves digestion, Grahi Absorbant, Trut shamak Relieves excessive thirst.
USEFUL PART: Roots, leaves , fruits
DOSAGE: Bark decoction-50-100ml
Fruit -5-10 numbers
AYURVEDIC FORMULATION:
Ajamamsa rasayan
Panchamla thailam.