BOTANICAL NAME: Clerodendrum serratum
FAMILY: Verbenaceae
CLASSICAL CATEGORAZTION:
Charaka: Pureesh Sangrahaniya
Sushruta: Pippalyadi
Bhavaprakasha: Haritkyadi varga
ENGLISH NAME: Blue-flowered glory tree
COMMON NAME:
Punjabi: Bhadangi
Hindi: Bharangi
Kannada: Gontu barangi
Bengali: Bamunhati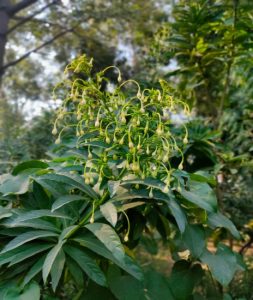 REFERENCE: BHAVAPRAKASH SAMHITA with link e Nighantu:
https://niimh.nic.in/ebooks/e-Nighantu/bhavaprakashanighantu/?mod=read
भार्गी भृगुभवा पद्मा फञ्जी ब्राह्मणयष्टिका |

भार्गी रूक्षा कटुस्तिक्ता रुच्योष्णा पाचनी लघुः |

दीपनी तुवरा गुल्मरक्तनुन्नाशयेद् ध्रुवम् |

शोथकासकफश्वासपीनसज्वरमारुतान् ||१६१||
HABITAT: A shrub distributed throughout the country, especially common in Assam and Bengal.
BOTANICAL DESCRIPTION: It is a shrub 3-8 ft. high, stems bluntly quadrangular, leaves are 5-6" x 21/4 -21/2 oblong or elliptic, sharply serrate. Flowers are long, lax usually pyramidal erect panicle 6-10" long, corolla bluish purple and fruit is drupe, normally 4 lobed. The Flowering and Fruiting is May to August, summer to rainy season.
AYURVEDIC CHARACTERISTICS:
| | | | | | |
| --- | --- | --- | --- | --- | --- |
| RASA | GUNA | VEERYA | VIPAKA | PRABHAVA | DOSHGHNTA |
| Katu, Tikta | Laghu, ruksha | Ushna | Katu | – | Kaphavatasamaka |
AYURVEDIC ENERGETICS:
| | | | | | |
| --- | --- | --- | --- | --- | --- |
| TASTE | PROPERTY | POTENCY | POST DIGESTION EFFECT | ACTION | DOSHA ACTION |
| Pungent, Bitter | Light, Dry | Hot | Pungent | – | Kaphavata pacifying |
MAJOR CHEMICAL CONSTITUENTS: Saponin
THERAPEUTIC USES:
Asthma: Decoction of its leaves is to be used.
Lymphadenopathy: Leaves paste is to be applied externally
Jaundice: Root is to be mainly preferred
Headache: Root paste is to applied externally
INDICATIONS:
Shwas Asthma, Gulma Abdominal tumors, Kasa Cough, Svasahara, Jvara Fever, Vatarakta Gout
USEFUL PART: Root
DOSAGE: 1-3 gm
AYURVEDIC FORMULATION:
1. Harangiguda
2. Bharangyadi kvatha
3. Yograj guggul
4. Srngyadi churna
5. Kanakasava