BOTANICAL NAME: Terminalia bellirica
FAMILY: Combretaceae
CLASSICAL CLASSIFICATION:
Charaka: Jwarahara, Kasahara, Virechanopaga
Sushruta: Mustadi gana
Bhavaprakasha nighantu: Haritakyadi varga
ENGLISH NAME: Belleric myrobalan
COMMON NAME:
Punjabi: Bahera
Hindi: Bahera
Kannada: Tare kayi, Shanti kayi
Bengali: Baida, Behri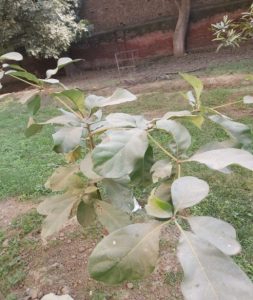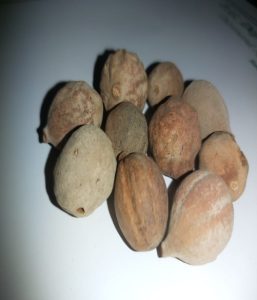 REFERENCE: BHAVAPRAKASH SAMHITA with link e Nighantu:
https://niimh.nic.in/ebooks/e-Nighantu/bhavaprakashanighantu/?mod=read
बिभीतकस्त्रिलिङ्गः स्यान्नाक्षः कर्षफलस्तु सः |

कलिद्रुमो भूतवासस्तथा कलियुगालयः ||३३||

बिभीतकं स्वादुपाकं कषायं कफपित्तनुत् |

उष्णवीर्यं हिमस्पर्शं भेदनं कासनाशनम् ||३४||

रूक्षं नेत्रहितं केश्यं कृमिवैस्वर्यनाशनम् |

बिभीतमज्जा तृट्छर्दिकफवातहरो लघुः |

कषायो मदकृच्चाथ धात्रीमज्जाऽपि तद्गुणः ||३५||
HABITAT: Throughout deciduous forests of India.
BOTANICAL DESCRIPTION: A handsome, tall tree attaining a height up to 40m and a girth 1.8m to 3m found in deciduous forests throughout India but not in arid regions, Stem- Straight, buttressed when large, Leaves- broadly elliptic, clustered towards the ends of branches, Flowers- in solitary, simple, axillary spikes, Fruits- globular 1-3-2 cm in diameter. Obscurely 5 angled.
AYURVEDIC CHARACTERISTICS:
| | | | | | |
| --- | --- | --- | --- | --- | --- |
| RASA | GUNA | VEERYA | VIPAKA | PRABHAVA | DOSHGHNTA |
| Kasaya | Ruksha Laghu | Ushna | Madhura | – | Tridoshaghna |
AYURVEDIC ENERGETICS:
| | | | | | |
| --- | --- | --- | --- | --- | --- |
| TASTE | PROPERTY | POTENCY | POST DIGESTION EFFECT | ACTION | DOSHA ACTION |
| Astringent | Dry, Light | Hot | Sweet | – | Balances three doshas |
MAJOR CHEMICAL CONSTITUENTS: Tannin
THERAPEUTIC USES:
Cough: A decoction of green fruit is to be used
Rheumatoid arthritis: Its seed oil is to be used as an external application
Diarrhea: Fruit pulp of it is to be administered
INDICATIONS:
Kasa Cough, Atisara Diarrhea, Amavata Rheumatoid arthritis, Krimi Worm infestation
USEFUL PART: Flower
DOSAGE: 3-6 gms
AYURVEDIC FORMULATION:
1. Triphala churna
2. Bibhitakataila
3. Phalatrikadi Kvatha
4. Talisadi curna
5. Lavangadi vati