BOTANICAL NAME: Aegle marmelos
FAMILY: Rutaceae
CLASSICAL CLASSIFICATION:
Charaka: Shothahara, Arshoghana, Asthapanopaga
Sushruta: Varunadi, Ambashtadi, Brihat panchamoola, Dashamoola
ENGLISH NAME: Bengal Quince, Bael
COMMON NAME:
Punjabi: Bil
Hindi: Bel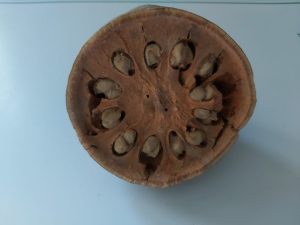 बिल्वः शाण्डिल्यशैलूषौ मालूरश्रीफलावपि |

श्रीफलस्तुवरस्तिक्तो ग्राही रूक्षोऽग्निपित्तकृत् |

वातश्लेष्महरो बल्यो लघुरुष्णश्च पाचनः ||११||
HABITAT: The plains and sub mountain regions of India, ascending to an altitude of 1200 m in the western Himalayas and is cultivated all over India.
BOTANICAL DESCRIPTION: A medium size tree with spines which are 2.5 cm, long, strong, axillary, Leaves- 3 foliate, alternate and leaflets are ovate-lanceolae, aromatic, flowers 3 cm, across greenish white scented, Fruit 5 to 17.5 cm in diameter, Pericarp-hard about 3 mm thick, globose, grey or yellow, pulp sweet and orange colored. The Flowering time is March to April and fruiting time is Rainy Season.
AYURVEDIC CHARACTERISTICS:
| | | | | | |
| --- | --- | --- | --- | --- | --- |
| RASA | GUNA | VEERYA | VIPAKA | PRABHAVA | DOSHGHNTA |
| Kasaya, Tikta | Ruksha Laghu | Ushna | Katu | – | Kaphavatasamaka |
AYURVEDIC ENERGETICS:
| | | | | | |
| --- | --- | --- | --- | --- | --- |
| TASTE | PROPERTY | POTENCY | POST DIGESTION EFFECT | ACTION | DOSHA ACTION |
| Astringent, Bitter | Dry, light | Hot | Pungent | – | Kapha vata pacifying |
MAJOR CHEMICAL CONSTITUENTS: Marmelosin, Aegelin
THERAPEUTIC USES:
Sinusitis: Fruit oil is to be administered
Muscle pain: Leaves paste is to applied externally
Headache: A decoction or juice of leaves is to be administered
INDICATIONS:
Prameha Diabetes mellitus, Raktavikara Blood disorders, Shvetapradara Leucorrhea, Atisara Diarrhea
USEFUL PART: Root, Bark, Leaves, Fruits
DOSAGE: Powder 3-6 gm
AYURVEDIC FORMULATION:
1. Bilvapancaka kvatha
2. Bilvadi curna, Bilva taila
3. Biladi ghrta
4. Bilvamuladi gutika
5. Dosamularista kvatha