BOTANICAL NAME: Commiphora myrrha
FAMILY: Burseraceae
CLASSICAL CLASSIFICATION:
Bhavaprakasha nighantu– Dhatu Upadhatu
ENGLISH NAME: Myrrh
COMMON NAME:
Hindi: Bola
Bengali: Gandhbol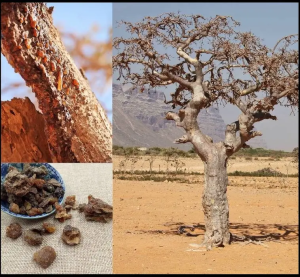 REFERENCE: BHAVAPRAKASH SAMHITA with link e Nighantu:
https://niimh.nic.in/ebooks/e-Nighantu/bhavaprakashanighantu/?mod=read
बोलगन्धरसप्राणपिण्डगोपरसाः समाः |बोलं रक्तहरं शीतं मेध्यं दीपनपाचनम् |

मधुरं कटु तिक्तं च दाहस्वेदत्रिदोषजित् |ज्वरापस्मारकुष्ठघ्नं गर्भाशयविशुद्धिकृत् ||१४१||
HABITAT: A shrubby or herbaceous twiner with a woody root stock; stems grooved, slender.
BOTANICAL DESCRIPTION: The leaves of Commiphora myrrha are a greyish-green color with a papery texture. The plant's leaves may come in an oblong or oval shape and are between 6-44mm long, and 3-20mm wide. Each leaf alternates and consists of three leaflets in a pinnately compound arrangement. The plant's yellow-red flowers are dioecious and are arranged in a panicle inflorescence.
AYURVEDIC CHARACTERISTICS:
| | | | | | |
| --- | --- | --- | --- | --- | --- |
| RASA | GUNA | VEERYA | VIPAKA | PRABHAVA | DOSHGHNTA |
| Katu, Tikta, Kaşaya | Laghu, Rūkşa, | Usna | Katu | – | Tridosha śāmaka. |
AYURVEDIC ENERGETICS:
TASTE
PROPERTY
POTENCY
POST DIGESTIVE EFFECT
EFFECT ACTION
DOSHA ACTION
Pungent

Bitter

astringent

Light

Dry

Hot
Pungent
–
Pacifying all three doshas
MAJOR CHEMICAL CONSTITUENTS: Campesterol, Calcium Phosphate, Myrrhin Metacresol.
THERAPEUTIC USES:
Bronchitis- Myrrh oil is useful against excessive mucus in lungs.
Gingivitis- Oil is applied locally over gum
Skin diseases- Myrrh oil is applied locally over the skin.
INDICATIONS:
Pachana Digestive, Vrushya Aphrodisiac, Medhya Improve intelligence, Jwara Fever.
USEFUL PART: Gum-resin
DOSAGE: Powder-1/2-1gm
Exudate-5-10 ratti (625mg-1.25gm)
AYURVEDIC FORMULATION:
Bolbadha Ras
Bol parpati
Boladi vati
Maharajaprasarini thailam