BOTANICAL NAME: Solanum indicum
FAMILY: Solanaceae
CLASSICAL CLASSIFICATION
Charak– Kanthya, Hikkanigrahna, shothhara, Angamardaprashmna
Shustrut- Bruhatyadi, laghu Panchmula
Bhavprakash– Guduchyadivarga
ENGLISH NAME: African egg plant
COMMON NAME: Badi Kateri
Hindi Name– Badi Kateri, Vanabhanta
Telugu Name– PeddaMulaka, TellaMulaka
Bengali Name– Rambegun, Vyakud
Tamil Name– Anachundai, Papparamalli,
Gujrati Name– Ubhiringani
English name– Poison Berry, Indian Nightshade, African Eggplant, Bush Tomato
PLANT IMAGE with Unique Identification Feature: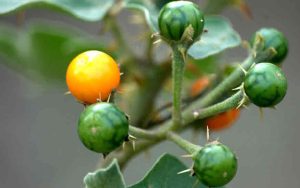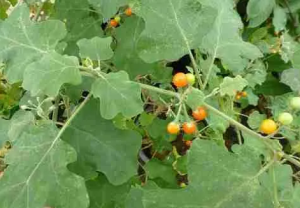 REFERENCE: BHAVAPRAKASH SAMHITA with link e Nighantu:
https://niimh.nic.in/ebooks/e-Nighantu/bhavaprakashanighantu/?mod=read
वार्ताकी क्षुद्रभण्टाकी महती बृहती कुली |
हिङ्गुली राष्ट्रिका सिंही महोष्ट्री दुष्प्रधर्षिणी ||३१||
बृहती ग्राहिणी हृद्या पाचनी कफवातहृत् |
कटुतिक्तास्यवैरस्यमलारोचकनाशिनी |
उष्णा कटुज्वरश्वासशूलकासाग्निमान्द्यजित् ||३२||
HABITAT: Tropical parts of India
BOTANICAL DESCRIPTION:
Habit: Herbaceous, stout, 2m high, prickly and densely wooly.
Leaves are ovate with short triangular lobes, villous above, stellately fulvous-wolly beneath Flowers are in dense, racemes, wooly, with needle like hairs, calyx shortly funnel shaped, loves-ovate-triangular; corolla white-blue, oblong, acute. Fruits are berries, yellow when ripe
Seeds are smooth and many. Flowering and fruiting season are during April- July.
AYURVEDIC CHARACTERISTICS
RASA

GUNA

VEERYA

VIPAKA

PRABHAVA

DOSHAGHNTA

Katu

Tikta

Laghu

Ruksha

Ushna
katu
Shukrarechak

Deepana

Pachan

Kaphvatahara
AYURVEDIC ENERGETICS
| | | | | | |
| --- | --- | --- | --- | --- | --- |
| TASTE | PROPERTY | POTENCY | POST DIGESTIVE EFFECT | EFFECT ACTION | DOSHA ACTION |
| Pungent bitter | Dryness, light | Hot | pungent | | Kaph vata pacifying |
MAJOR CHEMICAL CONSTITUENTS: solanine, carotene, carpesterol, solanacarpone, f3-sitosterol, vitamin-C
THERAPEUTIC USES
Irretable bowel syndrome: bruhati is taken with buttermilk
Hairfall: Fresh juice of Bruhati fruit is mixed with honey and used for local application
INDICATIONS –Paachni Digestive, Arochak Anorexia, vatajit Neurological, Chardi Vomiting.
USEFUL PART: root and fruit
DOSAGE: powder: 3-5g, decoction: 50-100ml
AYURVEDIC FORMULATIONS:
1. Bruhatyadikwath
2. Bruhatiadigana
3. Dashmoolarishta
4. Bruhatiyadikshaya