BOTANICAL NAME: Oxalis corniculata
FAMILY: Oxalidaceae
ENGLISH NAME: Indian Sorrel
COMMON NAME:
Hindi: Tinapatiya, Cangeri, Ambilona
Punjabi: Khatti būti, Khatakala
Bengali: Amarula
Kannad: Hulicikkai, Uppinasoppu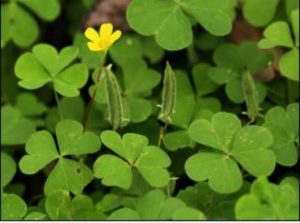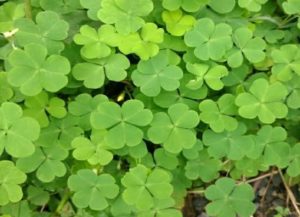 REFERENCE: BHAVAPRAKASH SAMHITA with link e Nighantu:
https://niimh.nic.in/ebooks/e-Nighantu/bhavaprakashanighantu/?mod=read
चाङ्गेरी चुक्रिका दन्तशठाम्बष्ठाऽम्ललोणिका |

अश्मन्तकस्तु शफरी पिसली चाम्लपत्रका ||१८||

चाङ्गेरी दीपनी रुच्या रूक्षोष्णा कफवातनुत् |

पित्तलाऽम्ला ग्रहण्यर्शःकुष्ठातीसारनाशिनी ||१९||
HABITAT: Found throughout warmer parts of India.
BOTANICAL DESCRIPTION:
It is a small annual or perennial, procumbent or less erect herb, 6-25 cm high. Leaves are Palmate 3 foliate, leaflets entire, roundly obovate. Flowers are Yellow colored and axillary. Fruits are Capsules, cylindrical in shape. Seeds are brown colored and numerous in no.
AYURVEDIC CHARACTERISTICS:
| | | | | | |
| --- | --- | --- | --- | --- | --- |
| RASA | GUNA | VEERYA | VIPAKA | PRABHAVA | DOSHGHNTA |
| Amal, kashaya | Laghu, Ruksha | Ushna | Amal | – | Vatakaphashamak pittavardhak |
AYURVEDIC ENERGETICS:
TASTE

PROPERTY

POTENCY

POST DIGESTIVE EFFECT

EFFECT ACTION

DOSH ACTION

Sour,

Astringent

Lightness

Dryness

Hot

Sour

–

Kaphavata Pacifying, Pitta alleviating
MAJOR CHEMICAL CONSTITUENTS: Malic acid (stem); tartaric and citric acids from stem, leaves. Leaves are a good source of vit. C and carotene, rich in calcium
THERAPEUTIC USES:
Piles: Prepare the food using Changeri oil and give it to the patient with curd.
Kharjurak Vish: Add salt to the juice of Changeri and then apply that to the site of bite.
Inflammation: Local application of its paste
INDICATIONS: Arsha Heamorrhoids, Grahni Irritable bowel syndrome, Atisara Diarrhoea, Apachi Indigestion, raktastambhan Bleeding disorders, Shothhara Inflammatory disorders
USEFUL PART: Panchang
DOSAGE: Swaras:- 5-10 ml
AYURVEDIC FORMULATION:
1. Cangeri ghrita
2. Jivantyadi ghrita