BOTANICAL NAME: Cicer arietinum
FAMILY: Papilionaceae
CLASSICAL CLASSIFICATION:
Bhavaprakasha: Dhanya varga
ENGLISH NAME: Chick pea
COMMON NAME:
Sanskrit name: chanaka
Hindi name: chane
Punjabi name: chole
Kannada: Kadle, Kadale
Bengali: Chola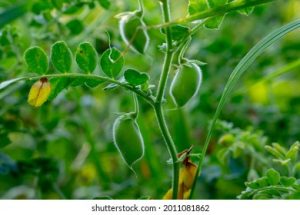 REFERENCE: BHAVAPRAKASH SAMHITA with link e Nighantu:
https://niimh.nic.in/ebooks/e-Nighantu/bhavaprakashanighantu/?mod=read
चणको हरिमन्थः स्यात्सकलप्रिय इत्यपि |

चणकः शीतलो रूक्षः पित्तरक्तकफापहः |

लघुः कषायो विष्टम्भी वातलो ज्वरनाशनः ||४५||

स चाङ्गारेण सम्भृष्टस्तैलभृष्टश्च तद्गुणः |

आर्द्रभृष्टो बलकरो रोचनश्च प्रकीर्तितः ||४६||

शुष्कभृष्टोऽतिरूक्षश्च वातकुष्ठप्रकोपणः |

स्विन्नः पित्तकफो हन्यात् सूपः क्षोभकरो मतः ||४७||

आर्द्रोऽतिकोमलो रुच्यः पित्तशुक्रहरो हिमः |

कषायो वातलो ग्राही कफपित्तहरो लघुः ||४८||
HABITAT: It is cultivated in Asia, Africa, Australia, North and South America
BOTANICAL DESCRIPTION:
It is bushy plant, stem grows upto 1m tall. Leaves are imparipinnate with 3-8 pair of leaflets. Pods are rhomboid ellipsoid. Seed are yellow, brown, black or green, and round.
AYURVEDIC PROPERTIES:
| | | | | | |
| --- | --- | --- | --- | --- | --- |
| RASA | GUNA | VEERYA | VIPAKA | PRABHAVA | DOSHGHNTA |
| Kashaya | Ruksha, laghu | Sheeta | Katu | Balya | Pittakapha shamaka and increase vata |
AYURVEDIC ENERGETICS:
| | | | | | |
| --- | --- | --- | --- | --- | --- |
| TASTE | PROPERTY | POTENCY | POST DIEGSTION EFFECT | ACTION | DOSHA ACTION |
| Astringent | Dry, Light | Cold | Pungent | Strength enchancer | Pitta kapha pacifying and increase vata |
MAJOR CHEMICAL CONSTITUENTS: Protein, Vitamin A, Phosphorus
THERAPEUTIC USES:
Burning sensation: Flour is to be kept in water for overnight and drink in the morning
Pain: Chick pea soaked in water and is to be used in morning
Oily skin: Paste is to be applied externally
INDICATIONS:
Rakta vikara Blood disorder, Jwara Fever, Daha Burn, Klama Fatigue, Shwasa Asthma
USEFUL PART: Seeds
DOSAGE: 125-250 mg or 5-10 drops
AYURVEDIC FORMULATION:
1. Gandhak vati
2. Herbofresh bathing powder