BOTANICAL NAME: Plumbago zeylanica
FAMILY: Plumbaginaceae
CLASSICAL CLASSIFICATION
Charak– Deepanya, Lekhaneya
Sushrut– Pippalyadi, Mustadi, Amalakyadi, Varunadi
Bhavprakash– Haritakyadivarga
COMMON NAME: Chita
Hindi Name– Cheeta, Chitra, Chitraka, Chita, Chitaraka, Chitavur
Telugu Name– Chitramulamu, Agnimatha, Tellachitra
English Name– Leadwort
Bengali Name– Chita, Chitu
Gujarati Name– Chitro, Chitra, Pitaro
Tamil Name– Chittiri, chittira, penchitar, kodivel
Kannada name– Chitramula, Bilichitramula
Punjabi name– Chitra
PLANT IMAGE with Unique Identification Feature: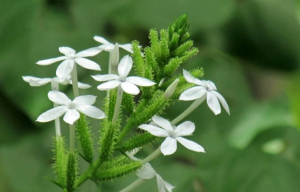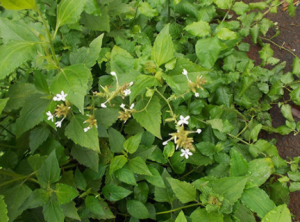 REFERENCE: BHAVAPRAKASH SAMHITA with link e Nighantu:
https://niimh.nic.in/ebooks/e-Nighantu/bhavaprakashanighantu/?mod=read
चित्रकोऽनलनामा च पाठी व्यालस्तथोषणः |
चित्रकः कटुकः पाके वह्निकृत्पाचनो लघुः |
रूक्षोष्णो ग्रहणीकुष्ठशोथार्शःकृमिकासनुत् |
वातश्लेष्महरो ग्राही वातर्शःश्लेष्मपित्तहृत् ||६४||
HABITAT: Found throughout India and sometimes cultivated.
BOTANICAL DESCRIPTION:
Habit: Perrinial herb with 0/6-1/5m long stem, somewhat woody spreading, glaborous
Root are fingerlike thick like shatavari, red from outside and white inside, pungent to taste
Leaves are thin, ovate, subacute, entire, petiole short Flowers are elongate spikes, rachis glandular, striate. Calyx: long, 1.3-3 cm, densely covered with stalked glands
Corolla is cylinder tube. Fruit are capsule, oblong, pointed, pericarp thin below thick and hardened apart. Flowering season: winter followed by fruiting after a month.
AYURVEDIC CHARACTERISTICS
RASA

GUNA

VEERYA

VIPAKA

PRABHAVA

DOSHAGHNTA

katu
Laghu

Ruksha

tikshna

Ushna
katu
Deepan

Pachana

Grahi

vatakaphahara
AYURVEDIC ENERGETICS
TASTE
PROPERTY
POTENCY
POST DIGESTIVE

EFFECT

EFFECT ACTION
DOSHA ACTION

Pungent

Lightness, dryness

sharp

Hot

Pungent

Vata kaph

Pacifying
MAJOR CHEMICAL CONSTITUENTS: plumbagin, lumbagin, isozeylinone, zeylinone
THERAPEUTIC USES:
Elephantasis- external application of chitraka paste.
Haemmoroids- chitrak and shunthi are made as paste by mixing with kanjika and applied locally.
Lecoderma- chitraka and trikatu are mixed with honey and cow's urine.
INDICATIONS
Jwar Pyrexia, Daha Burning sensation, Arsh Haemorrhoids.
USEFUL PART: Rootbark
DOSAGE: 0.5-1 g; high dose causes burning and intoxication
AYURVEDIC FORMULATIONS:
1. Chitrakadigutika
2. Chitrakharitki
3. Chitrakghrit
4. Chitrakchoorana
5. Trimadchoorana