BOTANICAL NAME: Smilax china
FAMILY: Liliaceae
CLASSICAL CLASSIFICATION:
Bhavaprakash: Haritkyadi varga
ENGLISH NAME: China root
COMMON NAME:
Hindi: Chopchini, Chobchini, Madhusnuhi
Bengali: Harha shukohina khohini
Kannada: Cinipavu
Punjabi: Chobchini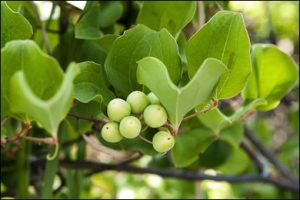 REFERENCE: BHAVAPRAKASH SAMHITA with link e Nighantu:
https://niimh.nic.in/ebooks/e-Nighantu/bhavaprakashanighantu/?mod=read
द्वीपान्तरवचा किञ्चित्तिक्तोष्णा वह्निदीप्तिकृत् |

विबन्धाध्मानशूलघ्नी शकृन्मूत्रविशोधिनी ||९६||

वातव्याधीनपस्मारमुन्मादं तनुवेदनाम् |

व्यपोहति विशेषेण फिरङ्गामयनाशिनी ||९७|| ( Haritakyadi Varga )
HABITAT:
Smilax china is basically native to China, Korea, Taiwan and Japan. Now it is widely distributed in forests, hillsides and shaded places along valleys in India, Vietnam, Philippines, Vietnam and Myanmar.
BOTANICAL DESCRIPTION:
A climbing thorny shrub with tendrils and few prickles. Leaves elliptic prominently nerved and rounded at the base; Flowers- white in umbels; Fruit – red; the tuberous root which is used in medicine is about 20 cm. long, 3 cm. 3) thick, knotty, whitish pink and without fibres. Bhävamiśra, compiler of this Nighantu also first time introduced its use in syphilis in Ayurvedic literature.
AYURVEDIC CHARACTERISTICS:
| RASA | GUNA | VEERYA | VIPAKA | PRABHAVA | DOSHGHNTA |
| --- | --- | --- | --- | --- | --- |
| Tikta | Laghu, Ruksha | Ushna | Katu | – | Tridosha shamaka |
AYURVEDIC ENERGETICS:
TASTE

PROPERTY

POTENCY

POST DIGESTIVE EFFECT

EFFECT ACTION

DOSHA ACTION

Bitter

Lightness

Dryness

Hot

Pungent

–

Tridosha pacifying
MAJOR CHEMICAL CONSTITUENTS:
Tannin, resin and cinchonin, along with smilacin and a steroidal saponin yielding on hydrolysis sarsasapogenin, have been identified in the tuberous roots. The presence of flavonoid glycosides, and three saponins one of which yields diosgenin, has also been reported. Seeds yield 11.1% of a fatty oil. Leaves contain rutin.
THERAPEUTIC USES:
Chronic headache: It is given orally with Anantamula.
Joint Disorders: Boil it in the milk and then Dalchini & Ela are added to it. This is used in gout, rheumatoid arthritis.
Epilepsy: Hot infusion of Chopchini is used in epilepsy cases.
Skin disorders: Decoction of Chopchini should be used twice a day.
INDICATIONS:
Rasayan delays ageing, Vajikara improves sexual desire, Phirangaroga Syphilis, Amvata Rheumatoid arthritis, Vatarakta Gout, Raktashodhaka purifies blood, Dhatuksheenta Malnutrition, Apasmara Epilepsy
USEFUL PART: Rhizome/ Tuber
DOSAGE: 250-500 mg. with milk and ginger powder.
AYURVEDIC FORMULATION:
1. Mulakadyarishta
2. Madhusnuhi Rasayana