BOTANICAL NAME: Holoptelea integrifolia
FAMILY: Ulmaceae
CLASSICAL CLASSIFICATION:
Charaka: Lekhaniya, Bhedaniya
Sushruta: Sleshma samhanana
Bhavaprakash: Guduchyadi varga
ENGLISH NAME: Indian Elm
COMMON NAME:
Punjabi: Rajain, Arajana
Hindi: Cilabila, Karanji, Papari
Kannada: Tavisi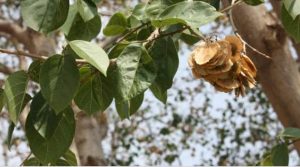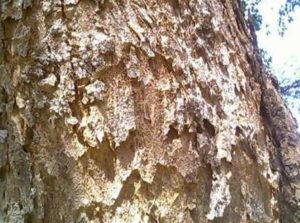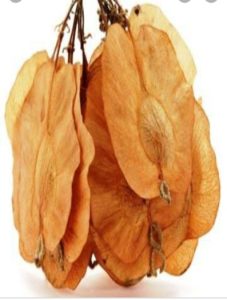 REFERENCE: BHAVAPRAKASH SAMHITA with link e Nighantu:
https://niimh.nic.in/ebooks/e-Nighantu/bhavaprakashanighantu/?mod=read
उदकीर्यस्तृतीयोऽन्यः षड्ग्रन्था हस्तिवारुणी ।

मर्कटी वारासी चापि करञ्जी करमाञ्जिका ॥

करञ्जी स्तम्भनी तिक्ता तुवरा कटुपाकिनी ।

वीर्योष्णा वमिपित्तार्शः कृमिकुष्ठप्रमेहजित् ॥ ( Guduchyadi varga)

HABITAT: Found in whole India up to 2000 feet altitude.
BOTANICAL DESCRIPTION:
It is a large, spreading, deciduous tree and looks like Karanja tree with drooping branches, white in color. Leaves are ovate, entire 2-4.5" in length; having a bad odor. Flowers are very small, greenish, appear after falling of leaves. Fruit is compressed, round or ovate.
AYURVEDIC CHARACTERISTICS:
| | | | | | |
| --- | --- | --- | --- | --- | --- |
| RASA | GUNA | VEERYA | VIPAKA | PRABHAVA | DOSHGHNTA |
| Tikta , Kashya | Laghu , Ruksha | Ushna | Katu | Krimighan | Kaphapittashamak |
AYURVEDIC ENERGETICS:
TASTE

PROPERTY

POTENCY

POST DIGESTIVE EFFECT

EFFECT ACTION

DOSH

ACTION

Bitter,

Astringent

Lightness ,

Dryness

Hot

Pungent

Krimighan

Kaphapitta

Pacifying
MAJOR CHEMICAL CONSTITUENTS: Holoptelin
THERAPEUTIC USES:
Inflammation of joints: Paste made up of its roots is locally applied over the inflammatory parts.
Scabies: Seeds of Chirabilva are rubbed against water and then the paste is applied over the affected area.
Wound: Medicated oil prepared from its leaves is used to treat wound.
INDICATIONS:
Shotha Inflammation, Vrana Wound, Prameha Diabetes, Dadru Scabies, Krimiroga Worm infestation, Raktashodhak Blood purifier, Shopha oedema, Arsha Haemorrhoids, Kushtha Skin disorders
USEFUL PART: Twak
DOSAGE: Kwath: 50 – 100 ml
AYURVEDIC FORMULATION:
1. Cirabilva kwath