BOTANICAL NAME: Punica granatum
FAMILY: Punicaceae
ENGLISH NAME: Pomegranate
COMMON NAME:
Hindi- Anar
Gujarati- Dadam
PLANT IMAGE with Unique Identification Feature: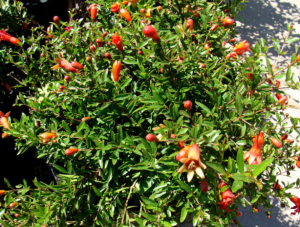 REFERENCE: BHAVAPRAKASH SAMHITA with link e Nighantu:
https://niimh.nic.in/ebooks/e-Nighantu/bhavaprakashanighantu/?mod=read
दाडिमः करको दन्तबीजो लोहितपुष्पकः |
तत्फलं त्रिविधं स्वादु स्वाद्वम्लं केवलाम्लकम् |
तत्तु स्वादु त्रिदोषघ्नं तृड्दाहज्वरनाशनम् ||८४||
हृत्कण्ठमुखगन्धघ्नं तर्पणं शुक्रलं लघु |
कषायानुरसं ग्राहि स्निग्धं मेधाबलावहम् ||८५||
स्वाद्वम्लं दीपनं रुच्यं किञ्चित्पित्तकरं लघु |
अम्लन्तु पित्तजनकमम्लं वातकफापहम् ||८६||
HABITAT: Punica granatum is native to Iran. It is cultivated throughout India
BOTANICAL DESCRIPTION: It is shrub or small tree, deciduous, glabrous, oftenwith spinescent bracelets.The tree has 2 gender types – one gets only maleflowers and has reddish leaves. The other has both male and female flowers. Leaves are opposite or sub opposite, often fascicledon short petioles. oblong or obovate
Flowers are terminal or axillaries, solitary, large showy, scarlet or orange-red, calyx coriaceous, persistent, prolong above the ovary, free part companulate; ovary inferior. Fruits are large globose, crowned by the somewhattubular limb of the caly. Seeds are angular test a coriaceous. Flowers in April and fruits in June usually.
AYURVEDIC CHARACTERISTICS
RASA

GUNA

VEERYA

VIPAKA

PRABHAVA

DOSHAGHNTA

Khashya

Madhua

amla

Laghu

snigdha

Ushna
Madhura/amla
Hradhya

grahi

tridoshshamak
AYURVEDIC ENERGETICS
TASTE
PROPERTY
POTENCY
POST DIGESTIVE

EFFECT

EFFECT

ACTION

DOSHA

ACTION

Astringent,sweet

sour

Lightness

Hot

Sweet/ sour

Cardiac

Pacifying tridosha
MAJOR CHEMICAL CONSTITUENTS: The stem bark contain 22-25 % tannin. The root
hark has punicotannic acid. The fruit contains 15% fructose.
Fruit peels – tanni, viz..punicalin. punicalagm etc.
Seed – estrone, punicic acid
Stem – malvidin pentose glucosides. tannin, ursolic acid etc.
THERAPEUTIC USES:
Haemmoroids– Ghee prepared with Dadimasvarasa andYavakara will check bleeding and pain.
Gonorrhea– Fruit rind of Dadima is made as infusion and administion with sugar orally.
Syphilis– Powder of Bankhuka leaves and Dadima bark may be dusted over the scrotum
.
INDICATIONS
Aruchi Anorexia, Arsh Haemmroids, Gulma Tumour, Jwar Pyrexia.
USEFUL PART: Fruit rind, root bark, floralbud, fruit
DOSAGE: Fruit juice– 20-50 ml, decoction 40-80 ml, rind or bark powder 3-5 gm.
AYURVEDIC FORMULATIONS
1. Dadimashtaka
2. Dadimadichurna
3. Dadimadighrita
4. Dadimadyataila
5. Dadimavaleha