BOTANICAL NAME: Cinnamomum zeylanica
FAMILY: Lauraceae
CLASSICAL CLASSIFICATION-
Eladi Vagbhata– Eladi, Trijataka – a group of three spices – cinnamon, cardamom and Cinnamomum tamala
ENGLISH NAME: Cinnamon
COMMON NAME:
Hindi: Dalchini
Bengali: Daruchini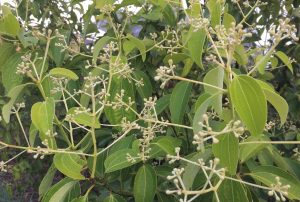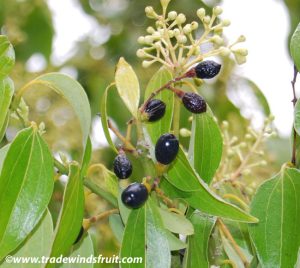 REFERENCE: BHAVAPRAKASH SAMHITA with link e Nighantu:
https://niimh.nic.in/ebooks/e-Nighantu/bhavaprakashanighantu/?mod=read
नाकुली सुरसा नागसुगन्धा गन्धनाकुली |

नकुलेष्टा भुजङ्गाक्षी सर्पाङ्गी विषनाशिनी ||१४५||

नाकुली तुवरा तिक्ता कटुकोष्णा विनाशयेत् |

भोगिलूतावृश्चिकाखुविषज्वरकृमिव्रणान् ||१४६||
HABITAT: Moderate sized evergreen tree Bark – Thick, smooth, pale color
BOTANICAL DESCRIPTION: Leaves – Opposite, or sub opposite, hard and coriaceous, ovate, sub-acute, glabrous, shining above slightly paler beneath, base acute or rounded. Inflorescence – Panicle Fruit – oblong, minutely apiculate, dark purple Useful part – Bark – Market sample contains single, double or closely packed compound quills of varying length. Outer surface is deep fan, or yellowish brown in color with shining wavy lines running longitudinally. Inner surface is dark brown.
AYURVEDIC CHARACTERISTICS:
| | | | | | |
| --- | --- | --- | --- | --- | --- |
| RASA | GUNA | VEERYA | VIPAKA | PRABHAVA | DOSHGHNTA |
| Katu, Tikta, Madhura | Laghu, Rooksha, Teekshna | Ushna | Katu | Dipana | Kaphavataśāmaka. |
AYURVEDIC ENERGETICS:
TASTE
PROPERTY
POTENCY
POST DIGESTIVE EFFECT
EFFECT ACTION
DOSHA ACTION
Pungent

Bitter

Sweet

Light

Dry

Piercing, Strong, Sharp

Sharp

Hot
Pungent
Appetizer
Balances Vata and Kapha
MAJOR CHEMICAL CONSTITUENTS: Plant contains Cinnamaldehyde, Eugenol, Benzaldehyde, ketone, Phellandrene, Pinene, Cymene, Linalool, Cumic, Aldehyde, Caryophyllene, safrole, Methyl evgenol, Borneol, Cinnamy alcohol, Cinnzeylanin, Cinnzeylanol
THERAPEUTIC USES:
Wound healing and insect bites: Cinnamon oil, when applied externally heals wounds quickly.
Improve teeth strength: To strengthen teeth, a small piece of cinnamon is kept in mouth, chewed for 5 – 10 minutes and the juice is swallowed.
Premature ejaculation: Cinnamon oil – 10 ml is diluted with 100 ml of sesame oil. Mixed well. This combination oil is applied over the penis, 10 minutes before bath, to improve blood circulation and for longer erection.
INDICATIONS:
Amavatahara Rheumatoid arthritis, Arsha Hemorrhoids Krumihara Worm infestation, Peenasa Allergic rhinitis, Kasa Cough
USEFUL PART: Stem bark, leaf, Cinnamon oil
DOSAGE: Powder 1-3 grams, Oil 2-5 drops
AYURVEDIC FORMULATION:
Sitopaladi Churna