BOTANICAL NAME: Desmostachya bipinnata
FAMILY: Poaceae
CLASSICAL CLASSIFICATION:
Charaka: Mutravirechaniya, Stanyajanana, Madhur skanda
Sushruta: Truna panchmoola
Bhavaprakash: Guduchyadi varga
ENGLISH NAME: Thatch grass, Cogon grass
COMMON NAME:
Bengali: Ulu
Hindi: Daabha, Siru, Ulu
Kannada: Sanna dabbac hullu
Punjabi: Daaba, Sil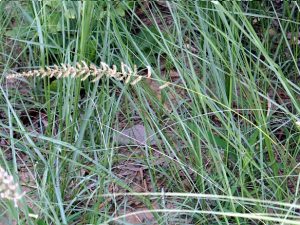 REFERENCE: BHAVAPRAKASH SAMHITA with link e Nighantu: https://niimh.nic.in/ebooks/e-Nighantu/bhavaprakashanighantu/?mod=read
कुशो दर्भस्तथा बर्हिः सूच्यग्रो यज्ञभूषणः |

ततोऽन्यो दीर्घपत्रः स्यात्क्षुरपत्रस्तथैव च ||१४३||

दर्भद्वयं त्रिदोषघ्नं मधुरं तुवरं हिमम् |

मूत्रकृच्छ्राश्मरीतृष्णाबस्तिरुक्प्रदरास्रजित् ||१४४||( Guduchyadi varga)

HABITAT: All over India
BOTANICAL DESCRIPTION:
It is a shrub which grows to a height of 1-3 ft. The roots are strong. The leaves emerge from the base of the plant. They are slender 2 inch wide, grown to a height of 1 foot and are pointed at the tip. The leaves have small hair like structure. The seeds are 1 cm long, flat in nature.
AYURVEDIC CHARACTERISTICS:
| | | | | | |
| --- | --- | --- | --- | --- | --- |
| RASA | GUNA | VEERYA | VIPAKA | PRABHAVA | DOSHGHNTA |
| Madhura, Kasaya | Laghu, Snigdha | Shita | Madhura | – | Tridoshara |
AYURVEDIC ENERGETICS:
TASTE

PROPERTY

POTANCY

POST DIGESTIVE EFFECT

EFFECT ACTION

DOSHA ACTION

Sweet

Astringent

Lightness

Slimy

Cold

Sweet

–

Tridosha Pacifying
MAJOR CHEMICAL CONSTITUENTS:
Contains five triterpenoids viz. cylindrin, arundoin, fernenon, isoburneol and simiarenol.
THERAPEUTIC USES:
Burning sensation: Decoction prepared from the root of Darbha is used to treat excessive burning sensation
Dysmenorrhea and leucorrhea: Cold infusion of its roots is given orally
Renal calculi: Its decoction is used in patients with renal calculi.
Wound healing: Decoction of Darbha along with neem, turmeric, triphala is used for washing the wound.
INDICATIONS:
Daha Burning sensation, Mutrakrichra Urinary retention, Ashmari Kidney stones, Trishna Excessive thirst, Pradara Leucorrhoea, Visha Toxic conditions, Rakta vikara Bleeding disorders, Visarpa Herpes, Stanya vikara Lactation disorders
USEFUL PART: Root
DOSAGE: 10-20 g for decoction
AYURVEDIC FORMULATION:
1. Karpuradyarka
2. Brahmarasayana
3. Traikantaka Ghrta
4. Sukumara Ghrta