BOTANICAL NAME: Berberis aristata
FAMILY: Berberidaceae
CLASSICAL CLASSIFICATION
Charak- Arshoghna, kandughana, lekhaniya
Sushrut– Haridardi, mustadi, lakshadi
ENGLISH NAME: Indian Barberry
COMMON NAME:
Hindi: Daruhaldi
Punjabi: Daru Haldi
Kannada: Bagisutra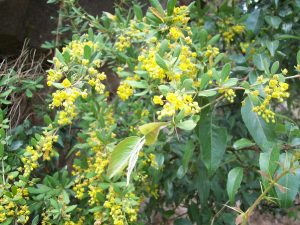 REFERENCE: BHAVAPRAKASH SAMHITA with link e Nighantu:
https://niimh.nic.in/ebooks/e-Nighantu/bhavaprakashanighantu/?mod=read
दार्वी दारुहरिद्रा च पर्जन्या पर्जनीति च |

कटङ्कटेरी पीता च भवेत्सैव पचम्पचा ||१७५||

सैव कालीयकः प्रोक्तस्तथा कालेयकोऽपि च |

पीतद्रुश्च हरिद्रुश्च पीतदारु च पीतकम् ||१७६||

दार्वी निशागुणा किन्तु नेत्रकर्णास्यरोगनुत् ||१७७||
HABITAT: Himalaya to Nepal.
BOTANICAL DESCRIPTION:
A large deciduous shrub, 1.8-3.6 m high. Twigs whitish or pale yellowish brown, deeply furrowed, rough. Leaves- 3.8 -10 by 1.5- 3.3 cm, obovate or elliptic, entire or spinous-toothed, base gradually narrowed, dark green above, pale beneath. Petiole 0-4 mm. Inflorescence a simple drooping raceme, 2.5 -7.5 cm, long, densely flowered. Fruit 7-10 mm, long, ovoid, blue-black, distinct style. Flowering and Flowering in Berberis aristata DC. starts from the first fortnight of March and remains in progress up to the end of April. The fruits start ripening from the second week of May and continue to do so throughout June.
AYURVEDIC CHARACTERISTICS
| | | | | | |
| --- | --- | --- | --- | --- | --- |
| RASA | GUNA | VEERYA | VIPAKA | PRABHAVA | DOSHGHNTA |
| Tikta, kasaya | Laghu, ruksa | Usna | Katu | Chedana | Kapha-pittahara |
AYURVEDIC ENERGETICS
TASTE
PROPERTY
POTENCY
POST DIGESTIVE EFFECT
EFFECT ACTION
DOSHA ACTION

Bitter,Astringent

Light

dryness

Hot

pungent

Kapha vata pacifying
MAJOR CHEMICAL CONSTITUENTS: Karachine, taxilamine, berberine, palmatine, jatrorrhizine, oxycanthine
THERAPEUTIC USES:
Inflammation-Paste made with water is applied externally.
Throat infection-Decoction is used for gargling.
INDICATIONS
Sveta pradara Leucorrhea, Prameha Diabetes, Netra rog Eye disorder, Kamala Jaundice, Vrana Wound healing, Visarpa Herpes
USEFUL PART: Root, stem, fruit, extract (rasanjana)
DOSAGE: Decoction 50-100 ml, Fruit powder 5-10g, extract 1-3g
AYURVEDIC FORMULATION:
1. Darvi ghrta
2. Darvyadi kvatha
3. Darvyadi taila
4. Darvyadi leha