BOTANICAL NAME: Fagonia cretica
FAMILY: Zygophyllaceae
CLASSICAL CLASSIFICATION:
Charaka: Kasahara mahakshaya, Hikka nigrahana mahakshaya
Bhavaprakash: Mishra varga, Guduchyadi varga
ENGLISH NAME: Khorasan thorn
COMMON NAME:
Hindi: Damahan, Dhamaasa, Hinguaa, Dhanhare
Punjabi: Dama, Dhamah, Dhamaha
Bengali: Duralabha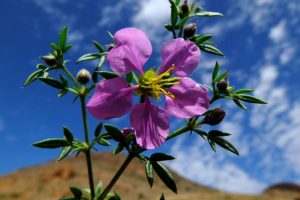 REFERENCE: BHAVAPRAKASH SAMHITA with link e Nighantu:
https://niimh.nic.in/ebooks/e-Nighantu/bhavaprakashanighantu/?mod=read
यासो यवासो दुःस्पर्शो धन्वयासः कुनाशकः |

दुरालभा दुरालम्भा समुद्रान्ता च रोदिनी |

गान्धारी कच्छुराऽनन्ता कषाया हरिविग्रहा ||१८०||

यासः स्वादुः सरस्तिक्तस्तुवरः शीतलो लघुः |

कफमेदोमदभ्रान्तिपित्तासृक्कुष्ठकासजित् ||१८१||

तृष्णाविसर्पवातास्रवमिज्वरहरः स्मृतः |

यवासस्य गुणैस्तुल्या बुधैरुक्ता दुरालभा ||१८२|| ( Guduchyadi varga)
HABITAT:
This herb is globally distributed from Mediterranean and Sahara to central Asia. In India it is grown in Himalayas, Ganges valley, Kashmir, Punjab, Bihar, Rajasthan and Gujarat.
BOTANICAL DESCRIPTION
It is a small shrub having thorns, growing to a height of 1-3 feet in the dry regions of Western India. The small branches are thick and have nodules in them. The leaves are shrunken and have 3-4 leaflets in it. The thorns present in the plant are thick and strong. Flowers are pale red in color and are seen just before winter. The fruits have hairy structure, having edges and bent in structure.
AYURVEDIC CHARACTERISTICS:
RASA
GUNA
VEERYA
VIPAKA
PRABHAVA
DOSHGHNTA
Madhura, Katu, Tikta, Kashaya.
Laghu, Snigdha
Shita
Madhura
–
Kaphahara,

Pittahara,

Vatahara
AYURVEDIC ENERGETICS:
TASTE

PROPERTY

POTANCY

POST DIGESTIVE EFFECT

EFFECT ACTION

DOSHA ACTION

Sweet

Pungent

Bitter

Astringent

Lightness

Slimy

Cold

Sweet

–

Tridosha Pacifying
MAJOR CHEMICAL CONSTITUENTS:
Alkaloids (Harmine); amino acids (alanine, glycine, leucine, arginine isoleucine, lysine, phenylalanine, proline, tyrosine and valline); terpenoids of oleanane group.
THERAPEUTIC USES:
Eczema: Decoction of Dhanvyasa is used for bathing or sprinkling to treat skin diseases.
Nausea & Diarrhoea: Cold infusion of this plant helps in relieving nausea and cure diarrhea.
Mouth ulcers: Decoction is used for gargling.
General debility: The dried powder is orally taken with milk.
INDICATIONS:
Daha Burning sensation, Grahni Irritable Bowel syndrome, Trishna Excessive thirst, Chardi Vomiting, Prameh Diabetes, Medovikara Obesity, Jwara Fever, Vatarakta Gout, Moha Delusion, Twaka vikara Skin disorders
USEFUL PART: whole plant
DOSAGE: 5-10 powder, 40-80 ml phanta.
AYURVEDIC FORMULATION:
Duralabhadi Kvatha
Duralabhadi Kasaya
Rasnadi Kvath Churna (Maha)
Tiktaka Ghrta
Usirasava
Kantakaryavaleha
Magapancagavya Ghrta
Dasam Ularista
Punarnavasava.