BOTANICAL NAME: Vitis vinifera
FAMILY: Vitaceae
CLASSICAL CLASSIFICATION:
Charaka- Kanthya, Virechanopaga, Kasa Hara, Shram Hara.
Sushruta- Parushkadi Gana
Bhavprakash- Amradi Phala Varga
ENGLISH NAME: Dry Grapes, Raisins
COMMON NAME:
Hindi: Munkka
Punjabi: Munaca
Bengali: Maneka
Kannada: Draksha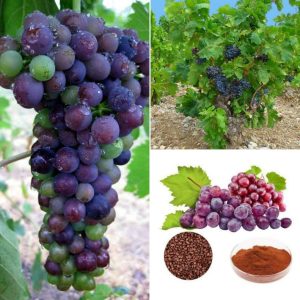 REFERENCE: BHAVAPRAKASH SAMHITA with link e Nighantu:
https://niimh.nic.in/ebooks/e-Nighantu/bhavaprakashanighantu/?mod=read
द्राक्षा

द्राक्षा स्वादुफला प्रोक्ता तथा मधुरसाऽपि च |

मृद्वीका हारहूरा च गोस्तनी चापि कीर्तिता ||९१||

द्राक्षा पक्वा सरा शीता चक्षुष्या बृंहणी गुरुः |

स्वादुपाकरसा स्वर्या तुवरा सृष्टमूत्रविट् ||९२||

कोष्ठमारुतकृद् वृष्या कफपुष्टिरुचिप्रदा |

हन्ति तृष्णाज्वरश्वासवातवातास्रकामलाः ||९३||

कृच्छ्रास्रपित्तसंमोहदाहशोषमदात्ययान् |

आमा स्वल्पगुणा गुर्वी सैवाम्ला रक्तपित्तकृत् |

वृष्या स्याद् गोस्तनी द्राक्षा गुर्वी च कफपित्तनुत् ||९४||

अबीजाऽन्या स्वल्पतरा गोस्तनीसदृशी गुणैः |

द्राक्षा पर्वतजा लघ्वी साऽम्ला श्लेष्माम्लपित्तकृत् ||९५||

द्राक्षा पर्वतजा यादृक् तादृशी करमर्दिका ||९६||
HABITAT: All over India
BOTANICAL DESCRIPTION: It is a large deciduous climber, often with bifid tendrils, cultivated in many parts of India
Leaves- orbicular, cordate, irregularly toothed
Flowers- green, leaf opposed panicles
Fruit- berries very variable in size, ovoid to globose, greenish, purplish or bluish black.
Autumn to winter season flowering.
AYURVEDIC CHARACTERISTICS:
RASA
GUNA
VEERYA
VIPAKA
PRABHAVA
DOSHGHNTA
Madhura
Guru, mridu

Snigdha

Sheeta
Madhura
–
Pittasamaka
AYURVEDIC ENERGETICS:
| | | | | | |
| --- | --- | --- | --- | --- | --- |
| TASTE | PROPERTY | POTENCY | POST DIGESTIVE EFFECT | EFFECT ACTION | DOSHA ACTION |
| Sweet | Heavy, soft, unctuous | Cold | Sweet | – | Pitta pacifying |
MAJOR CHEMICAL CONSTITUENTS: Malic, tartaric, oxalic acid
THERAPEUTIC USES:
Skin diseases: Sap of young branches is applied locally in skin disorders.
Throat affections: Juice of unripe fruits is used as throat affections.
Joint pain: Ashes of its stem are good for joint pain.
Epistaxis: Paste of draksha and madhu is orally ingested.
Urinary disorders: Internal use of juice of draksha
INDICATIONS:
Vibandha constipation, udavarta bloating, daha burning sensation, santapa fever, kasa cough, svasa respiratory disorder, raktapitta epistaxis, raktasarava bleeding disorder, kamala jaundice, pandu anaemia, mutrakricchara urinary disease.
USEFUL PART: Fruits
DOSAGE: 5-10 gm
AYURVEDIC FORMULATION:
Draksadi kvatha
Drakasasi leha
Draksadya ghrta
Parthyadyarista