BOTANICAL NAME: Leuca cephalotoes
FAMILY: Lamiaceae
CLASSICAL CLASSIFICATION:
Bhavaprakash: Guduchyadi Varga
ENGLISH NAME: Head leucas
COMMON NAME:
Hindi: Guma
Punjabi: Gomobati, Gumma, Mal–bheda
Bengali: Bholghasiya
Kannada: Tumbe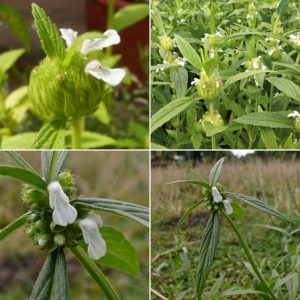 REFERENCE: BHAVAPRAKASH SAMHITA with link e Nighantu:
https://niimh.nic.in/ebooks/e-Nighantu/bhavaprakashanighantu/?mod=read
द्रोणा च द्रोणपुष्पी च फलेपुष्पा च कीर्तिता |

द्रोणपुष्पी गुरुः स्वादू रूक्षोष्णा वातपित्तकृत् |

सतीक्ष्णलवणा स्वादुपाका कट्वी च भेदिनी |

कफामकामलाशोथतमकश्वासजन्तुजित् ||२३८| ( Guduchyadi varga)
HABITAT: All over India
BOTANICAL DESCRIPTION:
It is an annual, stout, coarse herb with hairy branches found all over India especially in rainy season. Leaves are ovate, lanceolate, Crenate in shape. Flowers are white, small in dense whorls. Fruits are long, brown in color. Flowering time is October and November.
AYURVEDIC CHARACTERISTICS:
RASA
GUNA
VEERYA
VIPAKA
PRABHAVA
DOSHGHNTA
Katu
Laghu, ruksha,

tikshna

Ushna
Katu
–
Kaphavatashamaka
AYURVEDIC ENERGETICS:
TASTE

PROPERTY

POTENCY

POST DIGESTIVE EFFECT

EFFECT ACTION

DOSHA ACTION

Pungent

Lightness

Dryness

Sharpness

Hot

Pungent

–

Tridosha Pacifying
MAJOR CHEMICAL CONSTITUENTS: Aromatic oil and alkaloids
THERAPEUTIC USES:
Pratishyaya: Hot infusion of Dronapushpi or its fresh juice is used in common cold cases.
Kaph jwara: Its juice is given internally with tankan kshara and honey
Headache: Swaras of this plant is used for nasya.
Itching: Local application of its juice.
Wound cleansing: Its decoction is used to wash the wounds.
INDICATIONS:
Pratishyaya Common cold, Kasa Cough, Agnimandya Indigestion, Vishamjwara Malaria, Twakvikara Skin disorders, Usarshula Abdominal pain, Adhmana Flatulence, Kamala Jaundice, Krimiroga Worminfestation, Kandu Itching
USEFUL PART: whole plant
DOSAGE: juice 5 to10 ml, powder 1-3 gm
AYURVEDIC FORMULATION:
Pliharivatika
Gorocanadivati