BOTANICAL NAME: Carica papaya
FAMILY: Caricaceae
ENGLISH NAME: Papaya
COMMON NAME:
Sanskrit name: Arend karkati
Hindi name: Papita
Kannada name: Peragi, Parangimara, Pappayi hanu, Akka thangi hannu
Bengali name: Papeya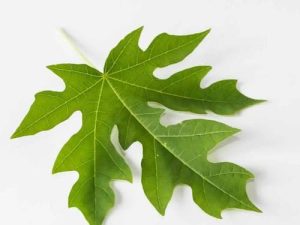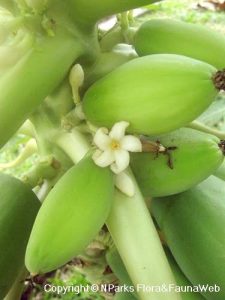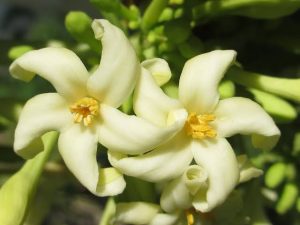 HABITAT: Native to West Indies and Central America; now cultivated in Uttar Pradesh, Punjab, Rajasthan, Gujarat, Maharashtra and South India.
BOTANICAL DESCRIPTION:
Carica papaya is a tree which normally grows with a single unbranched trunk. Leaves are palmately lobed, long with hollow petioles. Blades are divided into 5 to 9 segments having yellowish ribs and veins. Flowers are born on inflorescence which appears in the axils of leaves. Fruit is a melon like round, long and contains 1000 seeds. Its skin is smooth and green but turns yellow or orange when ripe.
AYURVEDIC PROPERTIES:
| | | | | | |
| --- | --- | --- | --- | --- | --- |
| RASA | GUNA | VEERYA | VIPAKA | PRABHAVA | DOSHGHNTA |
| Katu, tikta | Laghu, ruksha, tikshna | Ushana | Katu | – | Kaphavatashamaka |
AYURVEDIC ENERGETICS:
| | | | | | |
| --- | --- | --- | --- | --- | --- |
| TASTE | PROPERTY | POTENCY | POST DIGESTION EFFECT | ACTION | DOSHA ACTION |
| Pungent, Bitter | Light, Dry, Piercing | Hot | Pungent | – | Kaphavata pacifying |
MAJOR CHEMICAL CONSTITUENTS: Papain, caricine
THERAPEUTIC USES:
Mouth ulcers: Latex is to be applied internally
Pain: External application of Latex is to be done
Dysuria: Cold infusion of leaves is to be used
Constipation: Ripened fruit is to be used
Piles: Raw papaya paste is to be applied externally
INDICATIONS:
Twak roga Skin diseases, Kasa Cough, Shwasa Asthma, Granthi Cyst, Yakritvriddhi Hepatomegaly, Pleehodara Splenomegaly
USEFUL PART: Fruit, latex, leaves, seed
DOSAGE: Leaf infusion: 40-80ml, powder: 0.5 -1 gm
AYURVEDIC FORMULATION:
1. Ashmarihara Kashaya
2. Caripill