BOTANICAL NAME: Paederia foetida
FAMILY: Rubiaceae
CLASSICAL CLASSIFICATION:
Bhavaprakash: Guduchyadi varga
ENGLISH NAME: Skunk Vine
COMMON NAME:
Hindi: Gandha Prasarini
Kannada: Hesarani, Prasarini bail
Punjabi: Prasarini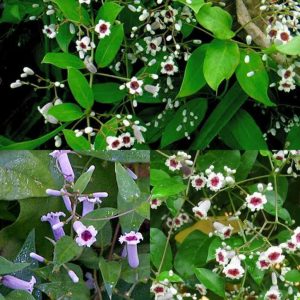 REFERENCE: BHAVAPRAKASH SAMHITA with link e Nighantu:
https://niimh.nic.in/ebooks/e-Nighantu/bhavaprakashanighantu/?mod=read
प्रसारणी राजबला भद्रपर्णी प्रतापनी |

सरणी सारणी भद्रा बला चापि कटम्भरा ||२०१||

प्रसारिणी गुरुर्वृष्या बलसन्धानकृत्सरा |

वीर्योष्णा वातहृत्तिक्ता वातरक्तकफापहा ||२०२| (guduchyadi varga)
HABITAT: Himalayan region, Bengal and Assam
BOTANICAL DESCRIPTION: It is a fetid smelling expensively spreading climber found in many places. Leaves are ovate to lanceolate in shape and with long petioles. Flowers are purple or violet colored. Fruits are ellipsoid, compressed red or black.
AYURVEDIC CHARACTERISTICS:
| | | | | | |
| --- | --- | --- | --- | --- | --- |
| RASA | GUNA | VEERYA | VIPAKA | PRABHAVA | DOSHGHNTA |
| Tikta | Guru | Usana | Katu | – | Kaphavatashamaka |
AYURVEDIC ENERGETICS:
TASTE

PROPERTY

POTENCY

POST DIGESTIVE EFFECT

EFFECT ACTION

DOSHA ACTION

Bitter

Heaviness

Hot

Pungent

–

Kaphvata

Pacifying
MAJOR CHEMICAL CONSTITUENTS: Palmitic Acid, Cerly Alcohol, Amino Acids, Argenine
THERAPEUTIC USES:
Joint disorders: Its paste is locally applied over the affected joints.
Vataj disorders: Medicated oil prepared from this plant is used internally as well as externally (massage)
Body ache: Decoction prepared from it along with Shunthi & Jeera is used internally.
INDICATIONS:
Daurbalya General debility, Vatajvikara Vata disoders, Vatarakta Gout, Amvata Rheumatoid arthritis, Udarshula Abdominalpain, Anaha Abdominal distension, Vibhandha Constipation, Sandhivikara Joint disorders, Shotha Inflammation, Vajikaran Aphrodisiac
USEFUL PART: Roots and leaves.
DOSAGE: Powder 2-4gm, juice 10-20ml, decoction 50- 100ml
AYURVEDIC FORMULATION:
Prasarinitail
Prasarinilauha