BOTANICAL NAME: Onosma bracteatum
FAMILY: Boraginaceae
CLASSICAL CLASSIFICATION
Charaka Samhita- Shaka varga
Vagbhata- Shaka varga
Bhavaprakasha- Guduchyadi varga
ENGLISH NAME: Cow's tongue / Lisanussoar, Sedge herb
COMMON NAME:
Hindi: Goaza, GanjabaGoziya
Bengali: Gaozaban, Dadishaka
Kannad: Yettina Nalage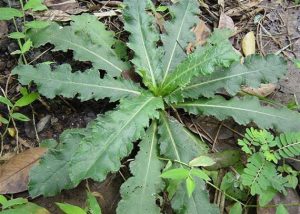 REFERENCE: BHAVAPRAKASH SAMHITA with link e Nighantu:
https://niimh.nic.in/ebooks/e-Nighantu/bhavaprakashanighantu/?mod=read
गोजिह्वा गोजिका गोभी दार्विका खरपर्णिनी |

गोजिह्वा वातला शीता ग्राहिणी कफपित्तनुत् |

हृद्या प्रमेहकासास्रव्रणज्वरहरी लघुः |

कोमला तुवरा तिक्ता स्वादुपाकरसा स्मृता ||२५०||
HABITAT: Gojihwa is a shrub growing to a height of 4-5 m growing in the Himalayan range.
BOTANICAL DESCRIPTION: The plant is covered with small hairs. The leaf is covered with small hair-like structures with small nodules giving it a rough appearance like the tongue of a cow; hence the name Gojihwa. The flowers are purple in color, thick and velvety.
AYURVEDIC CHARACTERISTICS:
| | | | | | |
| --- | --- | --- | --- | --- | --- |
| RASA | GUNA | VEERYA | VIPAKA | PRABHAVA | DOSHGHNTA |
| Madhura, Tikta | Laghu, Snigdha, | Sheeta | Madhura | – | Vatapittashamaka. |
AYURVEDIC ENERGETICS:
TASTE
PROPERTY
POTENCY
POST DIGESTIVE EFFECT
EFFECT ACTION
DOSHA ACTION
Sweet,

Bitter

Light

Slimy

Cold
Sweet
–
Pacifying vata and pitta
MAJOR CHEMICAL CONSTITUENTS: Plant contains lycopsamine and supindine viridiflorate
THERAPEUTIC USES:
Stomatitis and wound– Ash prepared from the leaf of Gohiwa is used to treat stomatitis and wound after the application.
Jaundice and constipation- Decoction prepared from the leaf of Onosma bracteatum is used to treat jaundice and constipation.
Epilepsy– Cold infusion prepared from the leaf is used to treat psychiatric conditions, epileptic conditions.
Fever– The decoction prepared from the leaf of Onosma bracteatum is given in a dose of 30-40 ml to treat fever and difficulty in micturition.
Stomach irritation– The decoction of the plant relieves functional palpitation of the heart, irritation of the stomach and bladder.
INDICATIONS
Kasa Cough, Aruchi Anorexia, Shwasa Asthma, Prameha Diabetes, Asra Piles, Jwara Fever Vrana Ulcers
USEFUL PART: Leaf, Flower
DOSAGE: Flower powder- 3 to 6 g, Decoction – 30-40 ml
AYURVEDIC FORMULATION:
Arka Gavjwan
Vanphashadi Kwath