BOTANICAL NAME: Astragalus gummifer
FAMILY: Amaranthaceaea
ENGLISH NAME: Tragacanth Gum
COMMON NAME:
Hindi: Katira Gonda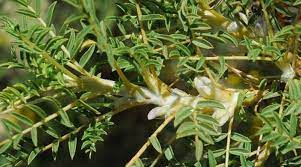 HABITAT: Perennial Branching Shrub
BOTANICAL DESCRIPTION
This species is shrubby, with small branches and short woody gray stem surrounded by thorns. The compound leaves are stipulate with elliptical leaflets (pinnae) borne in opposite pairs. The rachis of the leaf is extended into a sharp thorn.
MAJOR CHEMICAL CONSTITUENTS: Plant contains Acid hydrolysis revealed that tragacanthin (from Astragalus gummifer) contains neutral monosaccharides such as L-fucose (L-Fuc), L-arabinose (L-Ara), D-xylose (D-Xyl), D-mannose (D-Man), D-galactose (D-Gal), and D-glucose (D-Glc)
THERAPEUTIC USES:
The powdered herb o is applied as a wound-healing agent due to its drying properties
and as a baby powder.
Cold infusion of the whole plant is given in a dose of 30-40 ml to treat Pittaja Disorder.
Also powder is taken in case of burning micturition.
INDICATIONS
Urinary Calculi Ashmari, Skin Disorder Kushtha, Dysuria Mutrakrichra, Helmenthiasis Krimi
USEFUL PART: Exudate
DOSAGE: Powder 03 to 06 gms
Cold Infusion-40-50 ml