BOTANICAL NAME: Commiphora mukul, C.wightii, C.roxburghai
FAMILY: Burseraceae
CLASSICAL CLASSIFICATION:
Charaka- Sangya Sthapana
Sushruta- Eladi Gana
Bhavprakash- Karpuradi Varga
ENGLISH NAME: Gum-gugul, Indian Bedellium
COMMON NAME:
Hindi: Guggul, Gugal
Punjabi: Guggal
Bengali: Guggula
Kannada: Kanthagana, Guggala, Mahishaksha guggulu, Guggulugida, Guggulu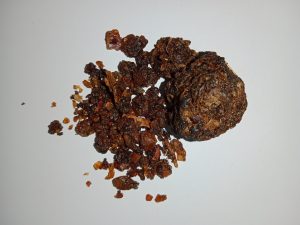 REFERENCE: BHAVAPRAKASH SAMHITA with link e Nighantu:
https://niimh.nic.in/ebooks/e-Nighantu/bhavaprakashanighantu/?mod=read
गुग्गुलुर्देवधूपश्च जटायुः कौशिकः पुरः |

कुस्तालू खलकं क्लीबे महिषाक्षः पलङ्कषः ||२९||

महिषाक्षो महानीलः कुमुदः पद्म इत्यपि |

हिरण्यः पञ्चमो ज्ञेयो गुग्गुलोः पञ्च जातयः ||३०||

भृङ्गाञ्जनसवर्णस्तु महिषाक्ष इति स्मृतः |

महानीलस्तु विज्ञेयः स्वनामसमलक्षणः ||३१||

कुमुदः कुमदाह्वः स्यात्पद्मो माणिक्यसन्निभः |

हिरण्याक्षस्तु हेमाभः पञ्चानां लिङ्गमीरितम् ||३२||

महिषाक्षो महानीलो गजेन्द्राणां हितावुभौ |

हयानां कुमुदः पद्मः स्वस्त्यारोग्यकरौ परौ ||३३||

विशेषेण मनुष्याणां कनकः परिकीर्तितः |

कदाचिन्महिषाक्षश्च यतः कैश्चिन्नृणामपि ||३४||

गुग्गुलुर्विशदस्तिक्तो वीर्योष्णः पित्तलः सरः |

कषायः कटुकः पाके कटू रूक्षो लघुः परः ||३५||

भग्नसन्धानकृद्वृष्यः सूक्ष्मः स्वर्यो रसायनः |

दीपनः पिच्छिलो बल्यः कफवातव्रणापचीः ||३६||

मेदोमेहाश्मवातांश्च क्लेदकुष्ठाममारुतान् |

पिडकाग्रन्थिशोफार्शोगण्डमालाकृमीञ्जयेत् |

माधुर्याच्छमयेद्वातं कषायत्वाच्च पित्तहा ||३७||

तिक्तत्वाद् कफजित्तेन गुग्गुलुः सर्वदोषहा |

स नवो बृंहणो वृष्यः पुराणस्त्वतिलेखनः ||३८||

स्निग्धः काञ्चनसंकाशः पक्वजम्बूफलोपमः |

नूतनो गुग्गुलुः प्रोक्तः सुगन्धिर्यस्तु पिच्छिलः ||३९||

शुष्को दुर्गन्धकश्चैव त्यक्तप्रकृतिवर्णकः |

पुराणः स तु विज्ञेयो गुग्गुलुर्वीर्यवर्जितः ||४०||

अम्लं तीक्ष्णमजीर्णञ्च व्यवायं श्रममातपम् |

मद्यं रोषं त्यजेत्सम्यग् गुणार्थी पुरसेवकः ||४१||
Flowering and fruiting season: Post rains to autumn season.
HABITAT: It is found in Rajasthan, Gujrat, Kathiawar, Rajputana desert, Mysore, Deccan and other warm regions in India.
BOTANICAL DESCRIPTION: Shrub, 1.2-1.3 metres high, young parts glandular-pubescent; branches knotty and crooked, divaricate usually ending in a sharp spine; Leaves- 1-3 folliolate, leaflets subsessile, rhomboid ovate, smooth and shining leaflets; Flowers in fascicles of 2-5, triangular, as long as the tube; petals brownish red; stamens 8-10; Drupes red when ripe, ovoid, readily splitting into 2.
AYURVEDIC CHARACTERISTICS:
RASA
GUNA
VEERYA
VIPAKA
PRABHAVA
DOSHGHNTA
Tikta, Katu
Laghu, Ruksa, Tiksna, Sukshma, Sara, Visada,

Sugandhi (puran gugullu),

Snigdha, picchila ( navin gugullu)

Usna
Katu
–
Tridosh shamak
AYURVEDIC ENERGETICS:
TASTE

PROPERTY

POTENCY

POST DIGESTIVE EFFECT

EFFECT ACTION

DOSHA ACTION

Bitter, Pungent.

Light, dry, hot, minute, brings movement, clear channels, pleasure odour (puran gugullu)

unctuous, sticky ( navin gugullu)

Hot

Pungent

–

Tridosha pacifying
MAJOR CHEMICAL CONSTITUENTS:
Oleoresin, Gum: guggullignans 1 & 2; guggulu tetrol
THERAPEUTIC USES:
Disinfection: Guggul with turmeric, neem powder, cedarwood oilmix together and used for fumigation.
Anti-aging property: Guggul consume 40gm for this purpose.
Abdominal disorder: Guggul consuming with milk.
Oedema: Guggul taken with gomutra.
Rheumatoid arthritis: Guggul, haritaki and shilajatu with gomutra.
INDICATIONS:
Amavata arthritis, Granthi tumours, Sopha inflammation, Gandamala goitre, Medoroga decrease excess fat, Prameha diabetes, Kustha leprosy
USEFUL PART: Oleoresin/gum
DOSAGE: 2-4 g of the drug
AYURVEDIC FORMULATION:
Yogaraja Guggulu
Vatari Guggulu
Simhanada Guggulu
Kaisora Guggulu
Mahayograja Guggulu
Candraprabha Vati
Amrutadi gugullu