BOTANICAL NAME: Abrus precatorius
FAMILY: Leguminosae
CLASSICAL CLASSIFICATION:
Sushruta – Moola Visha
Bhavaprakasha Nighantu- Guduchyadi Varga, Upavisha
ENGLISH NAME: Abrus or Indian Licorice, Crab's eye, John Crow Bead, Abrus seed, Jeriquity Vine, Wild liquorice, Rosary pea, Weather plant, Paternoster pea
COMMON NAME:
Hindi: Gamanchi, Gunchi, Gunja, Gaunchi, Rati
Bengali: Kunch, Koonch, Chunhali
Kannad: Gulaganji, Gulgunji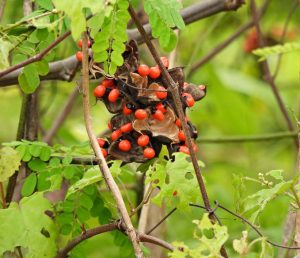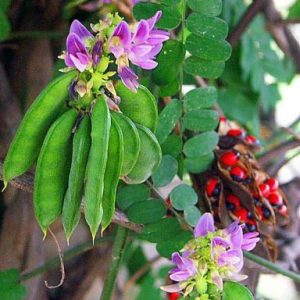 REFERENCE: BHAVAPRAKASH SAMHITA with link e Nighantu:
https://niimh.nic.in/ebooks/e-Nighantu/bhavaprakashanighantu/?mod=read
श्वेता रक्तोच्चटा प्रोक्ता कृष्णला चापि सा स्मृता |

रक्ता सा काकचिञ्ची स्यात्काकानन्ती च रक्तिका |

काकादनी काकपीलुः सा स्मृता काकवल्लरी ||१०९||

गुञ्जाद्वयन्तु केश्यं स्वाद्वातपित्तज्वरापहम् |

मुखशोषभ्रमश्वासतृष्णामदविनाशनम् ||११०||

नेत्रामयहरं वृष्यं बल्यं कण्डूं व्रणं हरेत् |

कृमीन्द्रलुप्तकुष्ठानि रक्ता च धवलापि च ||१११||
HABITAT: Woody climber with compound leaves.
BOTANICAL DESCRIPTION: Flower is pale purple to yellowish in color. Fruit are pods and 3 to 5 seeded, Seeds are ovoid and having glossy surface.
AYURVEDIC CHARACTERISTICS:
| | | | | | |
| --- | --- | --- | --- | --- | --- |
| RASA | GUNA | VEERYA | VIPAKA | PRABHAVA | DOSHGHNTA |
| Tikta, Kaşaya | Laghu, Rūkşa | Ushna | Katu | – | Kaphavataśāmaka. |
AYURVEDIC ENERGETICS:
TASTE
PROPERTY
POTENCY
POST DIGESTIVE EFFECT
EFFECT ACTION
DOSHA ACTION
Bitter

Astringent

Light

Dry

Hot
Pungent
–
Pacifying kapha and vata
MAJOR CHEMICAL CONSTITUENTS: Plant contains isoaristolochine, asovanilin, aristolochin, alkaloid aristolochine.
THERAPEUTIC USES:
Petechial hemorrhage: Leaf paste application over the petechial hemorrhages.
Inflammation: Fresh leaves are taken and fine paste is made. This is applied over the petechial lesions and inflamed area.
Dysuria, hoarseness of voice: Milk boiled with leaves in dysuria and hoarseness of voice.
Cough, mouth ulcers: Root powder (1-2 grams) is taken and mixed with honey.
Premature graying of hair, Hairfall: Seed oil for premature grayness of the hair and hair fall: 10 grams of the seeds (powdered) are taken along with 100 ml of oil and soaked overnight. To this equal amount of leat juice is added and oil is cooked in mild intensity of heat. This oil is filtered on complete evaporation of water content.
INDICATIONS:
Amavata Rheumatoid arthritis, Kasa Cold, Kandu Itching, Kushta Skin diseases, Vrana Ulcers, Wounds, Krimi Worm infestation
USEFUL PART: Root, leaf, seed
DOSAGE: Root and leaf powder 1-3 gm, Seed powder – half to one and half Gunja – 60-180 mg
AYURVEDIC FORMULATION:
Sarivadi Vati
Gunja taila