BOTANICAL NAME: Capparis sepiaria
FAMILY: Capparidaceae
CLASSICAL CLASSIFICATION:
Sushruta: Kantaka panchmoola
ENGLISH NAME: Caper Plant
COMMON NAME
Hindi: Kabara, Hainsaa, Kanthara
Punjabi: Barar, Kaur
Bengali: Kaliyakara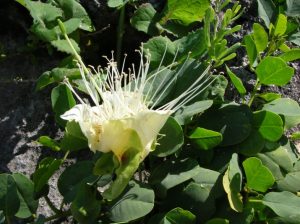 HABITAT: Lower Himalayas, and Western Ghats.
BOTANICAL DESCRIPTION: Root pieces are upto 5.5 cm in thickness; bark rough to touch, thick showing longitudinal lenticels; freshly broken surface light yellowish; wood hard and compact; remnants of robust and slender rootlets present on the bark; colour varies from pale yellow to reddish-brown; no particular odour or taste.
AYURVEDIC CHARACTERISTICS:
RASA
GUNA
VEERYA
VIPAKA
PRABHAVA
DOSHGHNTA
Katu

Tikta

Laghu

Ruksa

Ushna
Katu
Kaphahara

Vatahara
AYURVEDIC ENERGETICS:
TASTE

PROPERTY

POTENCY

POST DIGESTIVE EFFECT

EFFECT ACTION

DOSHA ACTION

Pungent

Bitter

Lightness

Dryness

Hot

Pungent

–

Kaphvata

Pacifying
MAJOR CHEMICAL CONSTITUENTS: The roots contain alkaloid stachydrine. Glucobrassicin, neoglu-cobrassicin and 4-methoxyglucobrassicin have also been identified in the roots.
INDICATIONS:
Arsha Haemorrhoids, Shotha Inflammation, Gulma Abdominal tumour, Shwasa Bronchial asthma, Kasa Cough, Galaganda Goitre Granthi Swelling, Vrana Wound, Amvata Rheumatoid arthritis
USEFUL PART: Young fruits, Flower buds, small leaves
DOSAGE: 1-3g
AYURVEDIC FORMULATION:
Amratadi Taila
Himsradya Ghrta