BOTANICAL NAME: Balanites roxburghi
FAMILY: Balanitaceae
CLASSICAL CLASSIFICATION:
Bhavprakash- Vatadi Varga
ENGLISH NAME: Desert date, thorn tree
COMMON NAME:
Hindi: Hingu
Bengali: Hing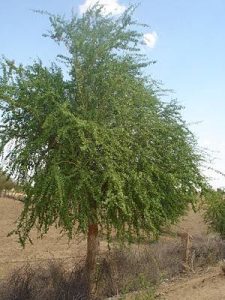 REFERENCE: BHAVAPRAKASH SAMHITA with link e Nighantu:
https://niimh.nic.in/ebooks/e-Nighantu/bhavaprakashanighantu/?mod=read
इङ्गुदोऽङ्गारवृक्षश्च तिक्तकस्तापसद्रुमः |

इङ्गुदः कुष्ठभूतादिग्रहव्रणविषक्रिमीन् |

हन्त्युष्णः श्वित्रशूलघ्नस्तिक्तकः कटुपाकवान् ||३४||
HABITAT: Africa, middle east
BOTANICAL DESCRIPTION: Tree reaches 10 m (33 ft) in height with a generally narrow form. The branches have long, straight green spines arranged in spirals. The dark green compound leaves grow out of the base of the spines and are made up of two leaflets which are variable in size and shape. The fluted trunk has grayish-brown, ragged bark with yellow-green patches where it is shed.
AYURVEDIC CHARACTERISTICS:
RASA
GUNA
VEERYA
VIPAKA
PRABHAVA
DOSHGHNTA
Tikta

Katu

Laghu

Snigdha

Ushna
Katu
–
Kapha

Vatta shamaka
AYURVEDIC ENERGETICS:
| | | | | | |
| --- | --- | --- | --- | --- | --- |
| TASTE | PROPERTY | POTENCY | POST DIGESTIVE EFFECT | EFFECT ACTION | DOSHA ACTION |
| Bitter, Pungent. | Light, Unctuous. | Hot | Pungent | – | Kapha vata pacifying |
MAJOR CHEMICAL CONSTITUENTS: Fruit- Balanitisines A, B, C, D & E, Balanitiesin, Nitogenin, Diosgenin, saponins.
THERAPEUTIC USES:
Leprosy- Ingudi taila is used as locally.
Rat poisoning- Shirish and ingudi pulp with honey.
Epistaxis- Ingudi pulp with yashtimadhu.
Wound- Ingudi taila local application.
INDICATIONS:
Twak roga skin disease, krimighna worm infestation,shvitra roga leucoderma
USEFUL PART: Stem bark, seed oil
DOSAGE: Decoction 50-100 ml, Powder 3-6 g, Pulp 3-6 g, Oil 5-10 drops.
AYURVEDIC FORMULATION:
Ingudi Taila