BOTANICAL NAME: Aristolochia indica
FAMILY: Aristolochiaceae
CLASSICAL CLASSIFICATION-
Bhavaprakasha nighantu– Haritakyadi varga
ENGLISH NAME: Indian Birthwort
COMMON NAME:
Hindi: Isrol
Bengali: Ishermul
Kannad: Ishwari beru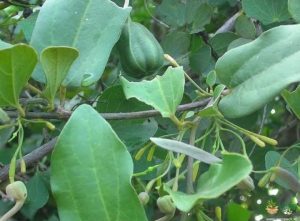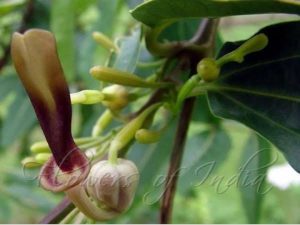 REFERENCE: BHAVAPRAKASH SAMHITA with link e Nighantu:
https://niimh.nic.in/ebooks/e-Nighantu/bhavaprakashanighantu/?mod=read
नाकुली सुरसा नागसुगन्धा गन्धनाकुली |

नकुलेष्टा भुजङ्गाक्षी सर्पाङ्गी विषनाशिनी ||१४५||

नाकुली तुवरा तिक्ता कटुकोष्णा विनाशयेत् |

भोगिलूतावृश्चिकाखुविषज्वरकृमिव्रणान् ||१४६||
HABITAT: A shrubby or herbaceous twiner with a woody root stock; stems grooved, slender.
BOTANICAL DESCRIPTION: Leaves linear to obovate, 2-4 in long, 1-2 in. broad, smooth margins entire. Inflorescence in axillary racemes; bracts small, ovate, flowers greenish, white, Capsule 1.5-2 in. long, oblong, grooved, 6-grooved, 6-valved, seeds triangular, winged.
AYURVEDIC CHARACTERSTICS:
| | | | | | |
| --- | --- | --- | --- | --- | --- |
| RASA | GUNA | VEERYA | VIPAKA | PRABHAVA | DOSHGHNTA |
| Katu, Tikta, Kaşaya | Laghu, Rūkşa, Tikṣṇa | Usna | Katu | Dipana | Kaphavataśāmaka. |
AYURVEDIC ENERGETICS-
TASTE

PROPERTY

POTENCY

POST DIGESTIVE EFFECT

EFFECT ACTION

DOSHA ACTION

Pungent

Bitter

astringent

Light

Dry

Sharp

Hot

Pungent

Appetizer

Pecifying kapha and vata
MAJOR CHEMICAL CONSTITUENTS: Plant contains isoaristolochine, asovanilin, aristolochin, alkaloid aristolochine.
THERAPEUTIC USES:
Leukoderma, Tonsillitis, Chronic dyspepsia– The powder root of Ishwari is given.
Indigestion and Fever -One pinch of root powder of Ishwari is taken with warm water.
Pain and swelling– The paste prepared from the leaf of the plant is applied over joints affected with pain and swelling.
Headache– The paste of fresh leaf applied over the forehead with turmeric powder.
Dysmenorrhea-Cold infusion from root of Ishwari is given in a dose of 40-50 ml.
INDICATIONS
Jawara Fever, Shotha Swelling, Sandhi vedana Joint pain, Vrana Ulcers
USEFUL PART: Roots, leaves
DOSAGE: Leaves juice: 1-3 gms
AYURVEDIC FORMULATION:
Gorochanadi vati
Pukaghanda, dandrux oil
Mathala rasayan
Mahavishagarbha taila