BOTANICAL NAME: Urgenia indica
FAMILY: Liliaceae
ENGLISH NAME: Indian Squill
COMMON NAME:
Hindi- Jangli pyaz, Jangalikanela, Kanela
Bengali- Banpiaaj, Janglipiaaj, Kande
Punjabi- Kachwassal, Phaphor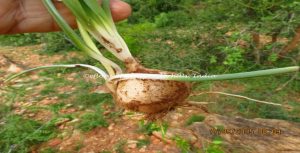 HABITAT: Bihar, Konkan, Himachal Pradesh, Bilaspur, Mandi of India.
BOTANICAL DESCRIPTION: It is a small plant growing to a height of 1.5 to 2.5 feet. The leaves are radical, linear and acute. The flowers are small, pale green to white, very distant, on slender, laxly flowered racemes. The fruit is round, 0.5 to 0.8 inch in diameter having 6-8 flat seeds inside. The rhizome is round, fleshy, about 1-2 inch in diameter and brown in color. The plant is found all over India.
AYURVEDIC CHARACTERSTICS:
RASA
GUNA
VEERYA
VIPAKA
PRABHAVA
DOSHGHNTA
Katu,

Tikta

Laghu,

Tikshna

Ushna
Katu
Vata-kaphahara
AYURVEDIC ENERGETICS:
TASTE

PROPERTY

POTANCY

AFTER DIGESTIVE EFFECT

EFFECT

ACTION

DOSHA ACTION

Pungent

Bitter

Light

Sharp

Hot

Pungent

Pacifying vatta and kapha
MAJOR CHEMICAL CONSTITUENTS: Scillarenin, Scilliglaucosidins, Scillirosidins
THERAPEUTIC USES:
Localized swelling– The rhizome of Van plandu is made into paste and applied over the area effected with skin disease and localized swelling as part of treatment.
Ascites– The fresh juice of rhizome of Indian sqill is given in a dose of 15-20 ml as part of treatment.
Rhinitis and cough– The rhizome of Urginea indica is heated and the juice is extracted which is given in a dose of 15-20ml.
Difficulty in micturition– The cold infusion of Vana plandu is given in a dose of 40-50 ml.
INDICATIONS
Pratishyaya Rhinitis Kasa Cough, Mutraghata Difficulty in micturition, Artavajanana Dysmenorrhea, Krimighana To treat intestinal worms.
USEFUL PART: Rhizome
DOSAGE: Powder- 150 to 200 mg, Cold infusion- 40-60 drops, Syrup – 30- 60 drops, Tincture – 5-30 drops
AYURVEDIC FORMULATION:
Surasava
Panak