BOTANICAL NAME: Nardostachys jatamansi
FAMILY: Valerianaceae
CLASSICAL CLASSIFICATION
Charaka- Sajnasthapana, Kandughana, Tikta skanda
Shushruta- Eladi gana, Elajanadi gana
ENGLISH NAME: Spikenard
COMMON NAME:
Hindi- Jatamansi
Kannad- Bhootijatt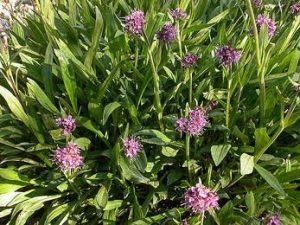 REFERENCE: BHAVAPRAKASH SAMHITA with link e Nighantu:
https://niimh.nic.in/ebooks/e-Nighantu/bhavaprakashanighantu/?mod=read
जटामांसी भूतजटा जटिला च तपस्विनी |

मांसी तिक्ता कषाया च मेध्या कान्तिबलप्रदा |

स्वाद्वी हिमा त्रिदोषास्रदाहवीसर्पकुष्ठनुत् ||७५||

HABITAT: Grow in Himalayan Area.
BOTANICAL DESCRIPTION:
An erect perennial herb, woody root stock found in alpine. Leaves are Elongate, Sessile, or oblong. Flower are Rosy, Pink or blue. Fruit are Small and round.
AYURVEDIC CHARACTERSTICS:
RASA
GUNA
VEERYA
VIPAKA
PRABHAVA
DOSHGHNTA
Tikat

Kashaya

Madhur

Laghu

Snigdha

Sheet
katu
Bhutgan
Pitta and kapha shamak
AYURVEDIC ENERGETICS:
TASTE

PROPERTY

POTENCY

POST DIGESTION EFFECT

ACTION EFFECT

DOSHA EFFECT

Bitter

Astringent

Sweet

Light

unctuous

Cold

Pungent

Psychiatric diseases

Pacifying pitta and kapha
MAJOR CHEMICAL CONSTITUENTS:
Volatile oil, Resin, Sugar, Starch, Ketone jatamansone and nardostarchone.
THERAPEUTIC USES:
Varnya–Jatamansi powder is frequently used along with saffron, turmeric improves skin glow and complexion
Psychiatric disoders- Jatamansi ghanvati in the dose of ½- 1 tablet once oe twice a day
Insomnia- Jatamansi root oil is used in insomnia.
Stress hallucination- Decoction of Jatamansi used in stress hallucination and vertigo.
INDICATIONS
Medhya Improve brain funtions, Keshya Increase hair growth, Javar Fever, Kusth Skin disorders,Visarpa Useful in herpes, Bhutdahaghni Useful in psychiatric conditions.
USEFUL PART: Mool
DOSAGE: Powder-1-3gm
AYURVEDIC FORMULATION:
Masyadi kwath
Rakshogan grit
Mahnsi grit
Kasheya oil