BOTANICAL NAME: Jasminum officinale
FAMILY: Oleaceae
CLASSICAL CLASSIFICATION
Charaka- Kushtaghana
Bhavaprakasha- Pushpa varga
ENGLISH NAME: Spanish jasmine
COMMON NAME:
Hindi- Chameli
Bengali- Chameli
Kannad- Mallige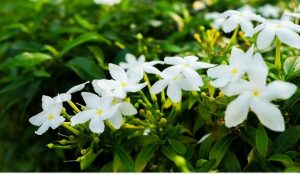 REFERENCE: BHAVAPRAKASH SAMHITA with link e Nighantu:
https://niimh.nic.in/ebooks/e-Nighantu/bhavaprakashanighantu/?mod=read
जातिर्जाती च सुमना मालती राजपुत्रिका |

चेतिका हृद्यगन्धा च सा पीता स्वर्णजातिका ||२१||

जातीयुगं तिक्तमुष्णं तुवरं लघु दोषजित् |

शिरोक्षिमुखदन्तार्तिविषकुष्ठानिलास्रजित् ||२२||
HABITAT: A large twining nearly glabrous shrub, often seen suberect, branches striate.
BOTANICAL DESCRIPTION: Leaves opposite, imparipinnate. 5-12.5 cm long petiole and rachis margined. Flowers white, often tinged (or streaked) with pink outside, in lax, axillary and terminal cymene longer than the leaves.
AYURVEDIC CHARACTERSTICS:
| | | | | | |
| --- | --- | --- | --- | --- | --- |
| RASA | GUNA | VEERYA | VIPAKA | PRABHAVA | DOSHGHNTA |
| Tikta, Kaşaya | Laghu, Snigdha, Mrdu | Usna | Katu | Kusthaghna | Tridosahara. |
AYURVEDIC ENERGETICS:
TASTE

PROPERTY

POTENCY

POST DIGESTIVE EFFECT

ACTION EFFECT

DOSHA EFFECT

Bitter

Astringent

Light

Slimy

Hot

Pungent

Skin diseases,

Reduces all the three doshas
MAJOR CHEMICAL CONSTITUENTS: Jasmine and some tannin substances. Flowers yield in aromatic essential oil. Benzyl acetate is the chief constituent of the oil from the flowers which also contains methyl anthranilate and 1-linalool,
THERAPEUTIC USES:
Enhances complexion– The paste of root of jasmine plant is applied as face pack to improve the complexion.
Mouth ulcers and weak gums-The fresh, tender leaf of plant is chewed to relieve pain due to dental caries mouth ulcers and in weak gums.
Gingivitis-The decoction of the leaf is used for gargling.
Headache– The paste of the root of jasmine plant is applied over forehead.
INDICATIONS
Mukharoga-mukhapaka Mouth ulcers, Kustha-kandu Skin diseases and itching, Sirahsula Headache, Ardita-pakşaghata Paralysis.
USEFUL PART: Leaves, Flowers, Roots.
DOSAGE: Powder 3-5 gm, Decoction 50-100 ml
AYURVEDIC FORMULATION:
Maltyadi taila
Paranthyadi taila

Trichoderm ointment

J

atyadi ghrit
Vasant Kusumakar Ras

Colicarmin Syrup

Velwak cream

Cardiraksh capsules

Kalyanak kashaya churna