BOTANICAL NAME: Myristica fragans
FAMILY: Myristicaceae
ENGLISH NAME: Nut meg
COMMON NAME:
HINDI- Jaiphal
KANNAD- Jaikai
BENGALI- Jaiphal, Javitri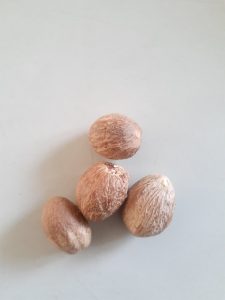 REFERENCE: BHAVAPRAKASH SAMHITA with link e Nighantu:
https://niimh.nic.in/ebooks/e-Nighantu/bhavaprakashanighantu/?mod=read
जातीफल

जातीफलं जातिकोशं मालतीफलमित्यपि |

जातीफलं रसे तिक्तं तीक्ष्णोष्णं रोचनं लघु |

कटुकं दीपनं ग्राहि स्वर्यं श्लेष्मानिलापहम् ||४८||

निहन्ति मुखवैरस्यं मलदौर्गन्ध्यकृष्णताः |

कृमिकासवमिश्वासशोषपीनसहृद्रुजः ||४९||

BOTANICAL DESCRIPTION:
Myristica fragrans is an evergreen tree. Flowers are bell-shaped, pale yellow and somewhat waxy and fleshy. Staminate flowers are arranged in groups of one to ten, each 5–7 mm (0.2–0.3 in) long; carpellate flowers are in smaller groups, one to three, and somewhat longer, up to 10 mm (0.4 in) long.The seed is the source of nutmeg, the aril the source of mace.
AYURVEDIC CHARACTERSTICS:
RASA
GUNA
VEERYA
VIPAKA
PRABHAVA
DOSHGHNTA
Madhur

Katu

Laghu
Ushna
Katu
Kapha-vata shamak
AYURVEDIC ENERGETICS:
TASTE

PROPERTY

POTENCY

POST DIGESTIVE EFFECT

ACTION EFFECT

DOSHA EFFECT

Sweet

Pungent

Light

Hot

Pungent

Balances kapha vata.
MAJOR CHEMICAL CONSTITUENTS: Essential oil & Fixed oil
THERAPEUTIC USES:
In cold and cough-A very tiny piece of nutmeg can be used in preparing food in babies above 9months to treat cold and cough.
Acne scar– A paste of nutmeg made with water or milk is applied externally to treat pimple and acne scar.
INDICATIONS
Dipan – Rochan Appetizer, Mehaghan Useful in diabetes, Shoolghan Pain reliever, Varnya Enhances akin complexion, Kasa shvas Cough and asthma, Hrudruja Relieves cardiac pain.
USEFUL PART: Fruit and javitri
DOSAGE: Churan – 0.5-1g, oil 1-3 bindu
AYURVEDIC FORMULATION:
Jatiphaaladi churan
Jatiphaaladi vati