BOTANICAL NAME: Croton tiglium
FAMILY: Euphorbiaceae
CLASSICAL CLASSIFICATION
Bhavaprakasha– Guduchyadi varga
ENGLISH NAME: Purging nut, Purging croton
COMMON NAME:
Hindi- Jamalgota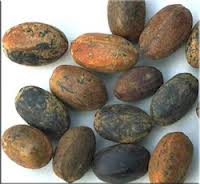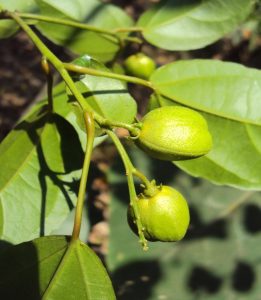 REFERENCE: BHAVAPRAKASH SAMHITA with link e Nighantu:
https://niimh.nic.in/ebooks/e-Nighantu/bhavaprakashanighantu/?mod=read
जयपालो दन्तिबीजं विख्यातं तिन्तिलीफलम् |

जयपालो गुरुः स्निग्धो रेची पित्तकफापहः ||१७३||

HABITAT:
Native to South-East Asia.
Now cultivated in Assam, Bengal and South India.
BOTANICAL DESCRIPTION:
A small evergreen tree. Bark is smooth, ash colored. Young shoots are sparsely hairy. Leaves are thinly membranous, ovate, serrate, 3-5 nerved, dentate. Flowers are greenish yellow in racemes. Fruit are 1 inch in length, ovate, capsule, obtusely trigonous. Capsule are oblong and obtuse 3 lobes ,3 coccus.
AYURVEDIC CHARACTERSTICS:
RASA
GUNA
VEERYA
VIPAKA
PRABHAVA
DOSHGHNTA
Katu
Guru,

Rooksh,

Teekshan

Ushna
Katu
Kapha-pita

hara
AYURVEDIC ENERGETICS:
TASTE

PROPERTY

POTENCY

POST DIGESTIVE EFFECT

ACTION EFFECT

DOSHA ACTION

Pungent

Heavy

Dry

Sharp/strong

Hot

Pungent

Reduces vitiated kapha and pitta
MAJOR CHEMICAL CONSTITUENTS: Fixed oil
THERAPEUTIC USES:
Alopecia- The paste of purified seeds of jayapala is applied over scalp .
Erectile dysfunction- The paste of the seeds of croton tiglium is applied over the penile region as a part of treatment of erectile dysfunction.
Skin diseases-The paste of the seeds of Jayapala is applied over skin surface.
INDICATIONS
Kasa Cough, Shwasa Asthma and COPD, Kshataksheena Wound healing, Deepan Improves digestion.
USEFUL PART: Seed, Seed oil
DOSAGE: Seed- 25-50mg, Oil- 0.5-1 drop
AYURVEDIC FORMULATION:
Ichabhedi
Jwarmurari
Jalodarari