BOTANICAL NAME: Leptadenia reticulata
FAMILY: Asclepiadaceae
CLASSICAL CLASSIFICATION-
Charka- Jeevaniya, Vayasthapana, Madhur skkandha
Shushruta- Kakolyadi gana
Bhavaprakasha- Guduchyadi varga
ENGLISH NAME: Cork swallow wort
COMMON NAME:
Hindi- Dodi Shak, Jivanti
Bengali- Jivanti
Kannada- Palatheege balli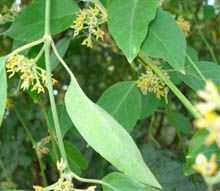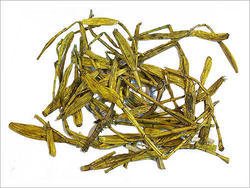 REFERENCE: BHAVAPRAKASH SAMHITA with link e Nighantu:
https://niimh.nic.in/ebooks/e-Nighantu/bhavaprakashanighantu/?mod=read
जीवन्ती जीवनी जीवा जीवनीया मधुस्रवा |

मङ्गल्यनामधेया च शाकश्रेष्ठा पयस्विनी ||४३||

जीवन्ती शीतला स्वादुः स्निग्धा दोषत्रयापहा |

रसायनी बलकरी चक्षुष्या ग्राहिणी लघुः ||४४||
HABITAT:
Sub-Himalayan tracts of Punjab and Uttar Pradesh and Deccan Peninsula up to an altitude
BOTANICAL DESCRIPTION:
It is a much-branched twining shrub. Bark is Yellow brown, corky. Leaves are ovate, cordate covered with whitish tomentum on lower surface, glabrous above. Flowers are many flowered cymes, greenish yellow follicles subwoody ,long turgid
AYURVEDIC CHARACTERISTICS:
RASA
GUNA
VEERYA
VIPAKA
PRABHAVA
DOSHGHNTA
Madhur
Laghu,

Snigdha,

Sheet
Madhur
Tridoshhar

Mainly vata pita shamak
AYURVEDIC ENERGETICS:
TASTE

PROPERTY

POTENCY

POST DIGESTIVE EFFECT

EFFECT ACTION

DOSHA ACTION

Sweet

Light

Unctuous

Cold

Sweet

Balances all the three doshas,pacifying vatta and pitta
MAJOR CHEMICAL CONSTITUENTS:
Hentriacontanol, α- and β–amyrin, stigmasterol, β-sitosterol and flavonoids-diosmetin
THERAPEUTIC USES:
Fever- The decoction of the root of Jivanti is given with ghrit in a dose of 40-50 ml .
Improve eye sight- The tender stems and fruits are eaten as vegetable which helps in improvement of the vision.
Cough- The decoction of plant is given in dose of 40-50 ml with honey to treat cough.
Wounds- The paste of jivanti plant is applied over fresh wound to treat it.
INDICATIONS
Atisara (Diarrhoea), Daha (Burning sensation), Jvara (Fever), Ksaya (Pthisis), Kāsa (Cough), sosa (Cachexia), Mukharoga (Disease of mouth), Naktandhya (Night blindness), Netraroga (Diseases of eyes), Raktapitta (Bleeding disorder), Trishna (Thirst), Urhksata (Pulmonary cavitation), Vran(Ulcer)
USEFUL PART: Root
DOSAGE: Powder- 3-6 g, Decoction- 50-100 ml
AYURVEDIC FORMULATION:
Jivanyadi ghrit
Jivanyadi tel