BOTANICAL NAME: Celastrus panniculatis
FAMILY: Celastraceae
CLASSICAL CLASSIFICATION:
Charaka- Shirovirechanopaga
Sushruta- Arkadi Gana, Adhobhagahara, Shirovirechana
Bhavprakash- Haritkyadi Varga
ENGLISH NAME: Balch oil plant
COMMON NAME:
Hindi- Malakanguni, Malkauni
Kannada- Bhavanga beeja, Maalakanguni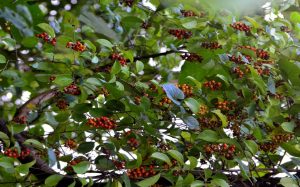 REFERENCE: BHAVAPRAKASH SAMHITA with link e Nighantu:
https://niimh.nic.in/ebooks/e-Nighantu/bhavaprakashanighantu/?mod=read
ज्योतिष्मती स्यात्कटभी ज्योतिष्का कङ्गनीति च |

पारावतपदी पण्या लता प्रोक्ता ककुन्दनी ||१५०||

ज्योतिष्मती कटुस्तिक्ता सरा कफसमीरजित् |

अत्युष्णा वामनी तीक्ष्णा वह्निबुद्धिस्मृतिप्रदा ||१५१||
HABITAT: Tropical area, semi evergreen forest
BOTANICAL DESCRIPTION:
Habit is climber. Leaves are simple, alternate, broadly ovate. Flowers are bisexual, terminal, Yellowish white, Fruit-Capsule, yellow in colour.
AYURVEDIC CHARACTERISTICS:
RASA
GUNA
VEERYA
VIPAKA
PRABHAVA
DOSHGHNTA
Katu,Tikta
Tikshna
Ushna
Katu
Medhya
Vatakaph

shamak
AYURVEDIC ENERGETICS:
| | | | | | |
| --- | --- | --- | --- | --- | --- |
| TASTE | PROPERTY | POTENCY | POST DIGESTIVE EFFECT | EFFECT ACTION | DOSHA ACTION |
| Pungent, Bitter | Strong | Hot | Pungent | Improve intelligence | Vata kapha pacifying |
MAJOR CHEMICAL CONSTITUENTS: Celastrin, Panniculatine
THERAPEUTIC USES:
Skin diseases: Seed oil is used externally.
Rheumatoid arthritis: Seed decoction 20-30ml is used internally.
Chronic ulcer: Fine paste of seeds for non healing chronic ulcer.
Muscular pain: Leaf paste for muscular pain.
Memory: 3-5 drops of jyotismati oil is added to milk and taken during night.
INDICATIONS:
Aamvaat arthritis ,Vaat vikara balances vata,
USEFUL PART: Seed and oil
DOSAGE: seed -1-2 gm,Oil 5-10 drops
AYURVEDIC FORMULATION:
Jyotishmati tail
Samriti Sagar Rasa