BOTANICAL NAME: Musa paradisiaca
FAMILY: Musaceae
CLASSICAL CLASSIFICATION
Shushruta– Lodhradi gana
Bhavaprakasha– Amradi phala varga, Shaka varga.
ENGLISH NAME: Banana
COMMON NAME:
Hindi- Kela
Punjabi- Kela
Kannada- Bale gadde, Kadubale, Kattebale, Kadali
Bengali- Kela, Kala, Kanch Kala
Sanskrit- Mouca, Varana, Ambusra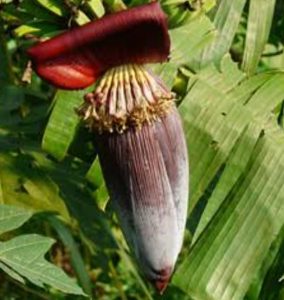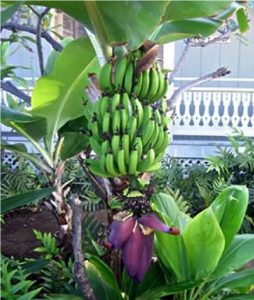 REFERENCE: BHAVAPRAKASH SAMHITA with link e Nighantu:
https://niimh.nic.in/ebooks/e-Nighantu/bhavaprakashanighantu/?mod=read
कदली वारणा मोचाम्बुसारांशुमतीफला |

मोचाफलं स्वादु शीतं विष्टम्भि कफकृद् गुरु |

स्निग्धं पित्तास्रतृड्दाहक्षतक्षयसमीरजित् ||२८||

पक्वं स्वादु हिमं पाके स्वादु वृष्यञ्च बृंहणम् |

क्षुत्तृष्णानेत्रगदहृन्मेहघ्नं रुचिमांसकृत् ||२९||

माणिक्यमर्त्त्यामृतचम्पकाद्या भेदाः कदल्या बहवोऽपि सन्ति |

उक्ता गुणास्तेष्वधिका भवन्ति निर्दोषता स्याल्लघुता च तेषाम् ||३०||

HABITAT:
Assam, Madhya Pradesh, Bihar, Gujarat, Andhra Pradesh, Karnataka, Jalgaon district (Maharashtra), West Bengal, Tamil Nadu and Kerala.
BOTANICAL DESCRIPTION:
It is a tree like herb with thick stem attaining a height of 5 cm composed of convolute leaf sheaths. Leaves are 1.5-2.5cm long, broad, oblong in shape. Flowers are numerous greenish yellows borne on pendulous spike. Bracts are long, ovate oblong, deep reddish outside. Fruits are oblong, may be of various sized berries. Seeds are numerous black small
AYURVEDIC CHARACTERSTICS:
RASA
GUNA
VEERYA
VIPAKA
PRABHAVA
DOSHGHNTA
Madhur
Guru
Sheet
Madhur
Vata pitta shamak

Kaphavardhak
AYURVEDIC ENERGETICS:
| | | | | | |
| --- | --- | --- | --- | --- | --- |
| TASTE | PROPERTY | POTENCY | POST DIGESTIVE EFFECT | EFFECT ACTION | DOSHA ACTION |
| Sweet | Heavy | Cold | Sweet | | Pecifying pitta dosha,vitiating kapha. |
MAJOR CHEMICAL CONSTITUENTS:
Saponins, Tannins, reducing and non-reducing Sugars, Sterols and Triterpenes.
THERAPEUTIC USES:
Dandruff and Dermatitis-Banana leaf juice is applied externally.
Improve energy-Banana leaf wrap is a famous spa treatment wherein around the patient's body. This is known to improve energy levels and induces relaxation.
Constipation and burning sensation during micturition-The stem of the kadali plant is eaten raw or made into salad.
Cholera-Raw banana is given to treat cases of cholera.
Hyperacidity- The flowers of banana is consumed to treat hyperacidity.
INDICATIONS
Brumhana nourishing, Raktapitta Bleeding disorders such as nasal bleeding, kshatakshaya Chest injury, Daha Burning sensation, Kantida Improving skin tone.
USEFUL PART:
Fruit, Stem and flower
DOSAGE: Juice -10-20 ml
AYURVEDIC FORMULATION:
Hemantha Rasa