BOTANICAL NAME: Solanum nigrum
FAMILY: Solanaceae
CLASSICAL CLASSIFICATION
Charaka- Tikta skanda
Shushruta- Surasadi gana
Bhavaprakasha- Guduchyadi varga
ENGLISH NAME: Garden Night Shade
COMMON NAME:
Hindi- Makoya
Punjabi- Mako
Bengali- Gudakamai
Kannada- Ganikayeagida, Ganikegida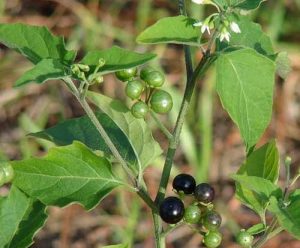 REFERENCE: BHAVAPRAKASH SAMHITA with link e Nighantu:
https://niimh.nic.in/ebooks/e-Nighantu/bhavaprakashanighantu/?mod=read
काकमाची ध्वाङ्क्षमाची काकाह्वा चैव वायसी |
काकमाची त्रिदोषघ्नी स्निग्धोष्णा स्वरशुक्रदा |
तिक्ता रसायनी शोथकुष्ठार्शोज्वरमेहजित् |
कटुर्नेत्रहिता हिक्काच्छर्दिहृद्रोगनाशिनी ||२११||
HABITAT: Throughout India, in dry parts, up to an elevation of 2100m.
BOTANICAL DESCRIPTION:
A Herbaceous plant. Herb-3'-4' in length, grown in at the end of rainy season.Leaves are entire, ovate, lanceolate. Flowers are small. Fruit are berry, usually purplish black, Smooth shining.
AYURVEDIC CHARACTERSTICS:
| | | | | | |
| --- | --- | --- | --- | --- | --- |
| RASA | GUNA | VEERYA | VIPAKA | PRABHAVA | DOSHGHNTA |
| Katu, Tikta | Laghu, Sara, Snigdha | Usna | Katu | Kushtghan, vishghan. | Tridoshghan |
AYURVEDIC ENERGETICS:
TASTE

PROPERTY

POTENCY

POST DIGESTIVE EFFECT

EFFECT ACTION

DOSHA ACTION

Pungent

Bitter

Light Mobility

Unctuous

Hot

Pungent

Skin diseases

Balances all the doshas
MAJOR CHEMICAL CONSTITUENTS: Alkaloids and Saponins.
THERAPEUTIC USES:
Scabies, ringworm-The leaves of kakamachi plant is applied the area affected with skin diseases like scabies,ringworm.
Localized swelling- Poultise of the leaf is prepared and applied externally to treat localized swelling.
Herpes disease-The paste prepared from the leaf of Solanum nigrum is applied along with ghee over the area affected area.
Conjuctivitis-The eye is fumigated with the leaf applied with ghee or butter.
INDICATIONS
Kasa Cough, Hikka hiccups, Shavash COPD, Shoth Inflammation,Twak rog Skin diseases.
USEFUL PART: Panchaang.
DOSAGE: 5 -10 ml. of the drug in juice form.
AYURVEDIC FORMULATION:
Hrdayarnava Rasa
Maha visagarbha Taila
Rasaraja Rasa