BOTANICAL NAME: Nigella sativa
FAMILY: Apiaceae
ENGLISH NAME: Small fennel, Black onion seeds
COMMON NAME:
Hindi: kalounji
Telugu: Jeelakarra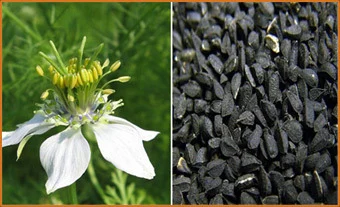 HABITAT: N. sativa grows to 20–30 cm (7.9–11.8 in) tall.
BOTANICAL DESCRIPTION: Leaves are finely divided, linear (but not thread-like) . The flowers are delicate, and usually colored pale blue and white, with five to ten petals. The fruit is a large and inflated capsule composed of three to seven united follicles, each containing numerous seeds which are used as spice
AYURVEDIC CHARACTERISTICS:
| | | | | | |
| --- | --- | --- | --- | --- | --- |
| RASA | GUNA | VEERYA | VIPAKA | PRABHAVA | DOSHGHNTA |
| Katu, Tikta, | Laghu, Rūkşa, | Usna | Katu | | Kaphavataśāmaka. |
AYURVEDIC ENERGETICS:
TASTE
PROPERTY
POTENCY
POST DIGESTIVE EFFECT
EFFECT ACTION
DOSHA ACTION
Pungent

Bitter

Light

Dry

Hot
Pungent
Pacifying kapha and vata
MAJOR CHEMICAL CONSTITUENTS:
Nigellin, Cymine, Carvone, Niggellone.
THERAPEUTIC USES:
Asthma- Its seeds are used to treat asthma.
Hair growth– Its seed powder with carrot juice made into paste apply it over scalp.
Cholesterol- Kalounji oil is helpful in maintaining cholesterol level.
INDICATIONS:
Deepana Improves digestion , Durgandhahar Relives bad odor, Vatahara Balances vata dosha, Medhya Brain tonic.
USEFUL PART: Seed, Seed oil
DOSAGE: Powder-1-3 gm
Kalonji oil-3-5 ml