BOTANICAL NAME: Piper cubeba
FAMILY: Piperaceae
CLASSICAL CLASSIFICATION
Bhavaprakasha- Kapooradi varga
ENGLISH NAME: Cubebs, Tailed Pepper
COMMON NAME:
Punjabi: Kababchini, Sardchini
Kannada: Gandhamenasu, Balamenasu
Hindi: Seetalchini, Kababchini
Bengali: Kahabcbini, Sugandhamaricha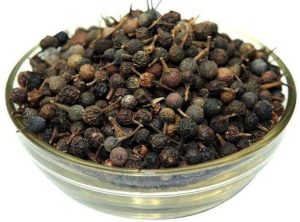 REFERENCE: BHAVAPRAKASH SAMHITA with link e Nighantu:
https://niimh.nic.in/ebooks/e-Nighantu/bhavaprakashanighantu/?mod=read
कङ्कोलं कोलकं प्रोक्तं तथा कोषफलं स्मृतम् |

कङ्कोलं लघु तीक्ष्णोष्णं तिक्तं हृद्यं रुचिप्रदम् |

आस्यदौर्गन्ध्यहृद्रोगकफवातामयान्ध्यहृत् ||९५||
HABITAT: Native to Indonesia; cultivated in Assam and Karnataka.
BOTANICAL DESCRIPTION: It is a climber. Leaves – glabrous, ovate, oblong; Fruit – subglobose, 6-8mm. diameter, apiculate, stalked. The fruits are collected when fully grown but still green, and dried in the sun when they become black and wrinkled.
AYURVEDIC CHARACTERSTICS:
| | | | | | |
| --- | --- | --- | --- | --- | --- |
| RASA | GUNA | VEERYA | VIPAKA | PRABHAVA | DOSHGHNTA |
| Katu, Tikta | Laghu, tiksna | Usna | Katu | Krimghana ,shothahara | Kapha-Pittaghan, |
AYURVEDIC ENERGETICS:
TASTE

PROPERTY

POTENCY

POST DIGESTIVE EFFECT

EFFECT ACTION

DOSH ACTION

Pungent

Bitter

Light

Sharp

Hot

Pungent

Worm infestation,

Anti-inflammatory

Balances kapha and pitta
MAJOR CHEMICAL CONSTITUENTS: Essential oil cubebin
THERAPEUTIC USES:
Swelling and pain-The paste of fruits of kankola is made into paste and applied over area.
Mouth ulcers and inflammation of gums-The powder of the fruit is mixed with honey and applied over mouth ulcer and inflammation of the gums.
Sinusitis and cough- The powder of the fruit of kankola is mixed with honey and consumed in a dose of 4-5 gm.
Erectile dysfunction- Intake of fruit powder mixed with sugar candy and milk is beneficial to treat erectile dysfunction.
INDICATIONS
Sula Pain, Aruci Indigestion, Mutrakrcchra Difficulty in micturition, Krimi Worm infestation, Hrudya Cardiac tonic.
USEFUL PART: Fruit.
DOSAGE: 1-2 g of the drug in powder form.
AYURVEDIC FORMULATION:
Dasamularisa
Kumaryasava