BOTANICAL NAME: Solanum xanthocarpum
FAMILY: Solanaceae
CLASSICAL CLASSIFICATION
Charaka- Kasahara,Shothahara, Hikkanigrahana, Kanthya, Angamardaprashamana
Shushruta- Brihatyadi, Varunadi, Laghupanchmula
ENGLISH NAME: Febrifuge plant
COMMON NAME:
Hindi- Choti Kateri/ Bhatakataiyya
Punjabi- Kandiyari
Bengali- Kantikari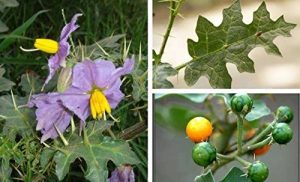 REFERENCE: BHAVAPRAKASH SAMHITA with link e Nighantu:
https://niimh.nic.in/ebooks/e-Nighantu/bhavaprakashanighantu/?mod=read
क्षुद्रा या क्षुद्रभद्राख्या बृहतीति निगद्यते |

श्वेता क्षुद्रा चन्द्रहासा लक्ष्मणा क्षेत्रदूतिका |

गर्भदा चन्द्रमा चन्द्री चन्द्रपुष्पा प्रियङ्करी ||३४||

कण्टकारी गुण-

कण्टकारी सरा तिक्ता कटुका दीपनी लघुः |रूक्षोष्णा पाचनी कासश्वासज्वरकफानिलान् ||३५||

निहन्ति पीनसं श्वासपार्श्वपीडाहृदामयान् |तयोः फलं कटु रसे पाके च कटुकं भवेत् |

शुक्रस्य रेचनं भेदि तिक्तं पित्ताग्निकृल्लघु ||३६||

हन्यात्कफमरुत्कण्डूकासमेदकृमिज्वरान् |तद्वत्प्रोक्ता सिता क्षुद्रा विशेषाद्गर्भकारिणी ||३७||

कण्टकारी तु दुःस्पर्शा क्षुद्रा व्याघ्री निदिग्धिका |कण्टालिका कण्टकिनी धावनी बृहती तथा ||३३||
HABITAT: Throughout India
BOTANICAL DESCRIPTION:
Root-10-45 cm long, few mm to two cm in diameter. Stem are herbaceous, prickly with prominent nodes and internodes.Leaves-petiolate, exstipulate, ovate–oblong or elliptic, sinuate or sub-pinnatifid. Flower are ebracteate, pedicellate, bisexual, pentamerous, regular, complete, bright blue or bluish purple. Fruit are Berry globular, measuring 0.8-1 cm in diameter.
AYURVEDIC CHARACTERSTICS:
| | | | | | |
| --- | --- | --- | --- | --- | --- |
| RASA | GUNA | VEERYA | VIPAKA | PRABHAVA | DOSHGHNTA |
| Katu, Tikta | Laghu, Ruksa | Usna | Katu | Dipana, Pacana, Kanthya, Sothahara | Kaphavata shamak |
AYURVEDIC ENERGETICS-
TASTE

PROPERTY

POTENCY

POST DIGESTIVE EFFECT

EFFECT ACTION

DOSHA ACTION

Pungent,Bitter

Light,Dry

Hot

Pungent

Appetizer

Digestive

Anti-inflammatory

Balances kapha and vata
MAJOR CHEMICAL CONSTITUENTS: Glucoalkaloids, sterols
THERAPEUTIC USES:
Dysuria- The juice extract of kantkari along with honey is used in treating dysuria.
Dandruff and promote hair growth- Fresh plant -200 gm is collected.Cleaned ,It is crushed to 30-50ml of juice,it is applied over the scalp, 1hour before hair wash, to relieve dandruff and to promote hair growth.
INDICATIONS
Svasa Asthma, Kasa Cough, Jvara Fever, Aaruci Indigestion, Pinasa Running nose.
USEFUL PART: Panchang
DOSAGE: 20-30 gm of the drug for decoction
AYURVEDIC FORMULATION:
Kantakaryavaleha
Pancatiktaka ghrit