BOTANICAL NAME: Mucuna pruriens
FAMILY: Papilionaceae
ENGLISH NAME: Cowhage
COMMON NAME:
Kannada: Nasukunni
Malayalam: Naikurana
Tamil: Poonai KaaliVithu
PLANT IMAGE with Unique Identification Feature: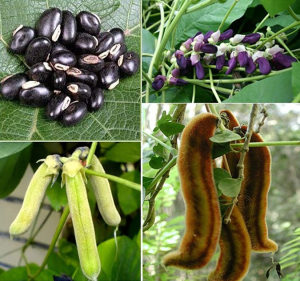 REFERENCE: BHAVAPRAKASH SAMHITA with link e Nighantu:
https://niimh.nic.in/ebooks/e-Nighantu/bhavaprakashanighantu/?mod=read
कपिकच्छूरात्मगुप्ता वृष्या प्रोक्ता च मर्कटी |

अजरा कण्डुरा व्यङ्गा दुःस्पर्शा प्रावृषायणी |

लाङ्गली शूकशिम्बी च सैव प्रोक्ता महर्षिभिः ||११२||

कपिकच्छूर्भृशं वृष्या मधुरा बृंहणी गुरुः |

तिक्ता वातहरी बल्या कफपित्तास्रनाशिनी |

तद्बीजं वातशमनं स्मृतं वाजीकरं परम् ||११३|| (Guduchyadi varga)
HABITAT: Throughout India, including Andaman and Nicobar Islands.
BOTANICAL DESCRIPTION: Roots:- Dark Brown in color. Leaves:- alternate, trifoliate.
Pods:- S shaped covered with many hairs. Seeds:- ovoid, slightly laterally compressed,
black and brown colored.
AYURVEDIC CHARACTERISTICS:
| | | | | | |
| --- | --- | --- | --- | --- | --- |
| RASA | GUNA | VEERYA | VIPAKA | PRABHAVA | DOSHGHNTA |
| Madhura, Tikta | Guru, snigdha | Usna | Mahura | Shukrajanan | Vataśāmaka, pittavardhaka |
AYURVEDIC ENERGETICS:
| | | | | | |
| --- | --- | --- | --- | --- | --- |
| TASTE | PROPERTY | POTENCY | POST DIGESTIVE EFFECT | EFFECT ACTION | DOSHA ACTION |
| Sweet, bitter | Heavy, unctous | Hot | Madhura | Aphrodisiac | Pacifying vata and increase pitta |
MAJOR CHEMICAL CONSTITUENTS: Manganese, lecithin, Sulphur, tannin.
THERAPEUTIC USES:
1. Marital fatigue:
3-5 gram of fine powder of cowhage is taken along with a cup of warm milk twice daily, before food. This is useful to improve sexual power, premature ejaculation, lethargy and fatigue.
2. For bodyache, muscle pains:
Kapikacchu-Shatavari and Gokshura are taken in equal amounts, together – 1 teaspoon, mixed with 2 cups of water, boiled and reduced to half a cup. Filtered. This is advised in a dose of 50 ml, once or twice a day to treat neuralgia, fatigue, bodyache, backache etc.
3. Senile debility:
5 grams of coarse powder of mucuna is cooked with cow's milk. It is added with a teaspoon of ghee and half a teaspoon of sugar. This is useful in treating backache and senile debility.
4. For weight gain:
Fine powder of mucuna 2 tablespoons is cooked well with a cup of milk till it turns into a semi solid mass.It is fried with a tablespoon of ghee till it turns brown. This is cooked in mild heat with constant stirring till the whole mass turns into a cake. If needed, cardamom, saffron, and clove can be added as per taste.
5. Mucuna seed remedy for mind irritation and concentration:
Regular usage of seed decoction in the dose of 40-50 ml helps to relieve the disorientation and irritation of the mind.
6. Sciatica
Kapikacchu root powder also has rejuvenative benefit and nervine tonic effect. Its powder or decoction is useful in the treatment of back ache and sciatica.
INDICATIONS:
mutracrish Urinary disorder, vatanadi Neural disorders.
USEFUL PART: Seed, root, pod hair
DOSAGE: Fruit powder- 1-3g, Oil- 1-3 drops, distillate- 20-40 ml.
AYURVEDIC FORMULATION:
Vanari gutika
Mashabaladi pachana